---
DAY 1
Overnight flight to Tirana Albania
Embarking on a 10-day Tirana, Albania tour can be an exciting adventure! To make the most of your trip, here are some general tips and recommendations for your overnight flight and the subsequent days:
Before the Flight:
Prepare Essentials:

Ensure you have all necessary travel documents, including your passport, tickets, and any required visas.
Pack essential items like toiletries, a change of clothes, and any medications in your carry-on bag.
---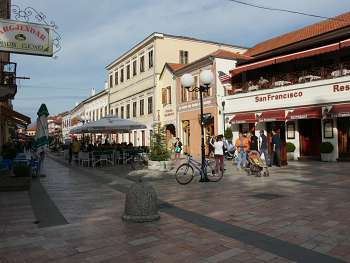 DAY 2
Arrival to Tirana
Upon your early morning arrival at Tirana International Airport, we will commence our journey by heading towards the town of Lezha to pay homage to the Memorial of Scanderbeg, the renowned Albanian National Hero from the 15th century. Following this, we will go to Shkodra, where you will check in at a prestigious, time-honored traditional hotel. Take a moment to unwind and rejuvenate for 1-2 hours. In the afternoon, we invite you to explore the historic gems of Shkodra, including the captivating Rozafa Castle, offering breathtaking 360-degree panoramic views, the charming Pedestrian Street in the historic center, and a visit to the Marubi Studio. Our first day culminates with a memorable dinner, promising to be a delightful introduction to your journey. (Dinner)
---
DAY 3
Lake Komani and Valbona Valley
After a sumptuous breakfast, we embark on a mesmerizing journey to Lake Komani, where you will be astounded by the ever-changing landscapes in the short distances traveled, a theme that will persist throughout this captivating tour. As we navigate the pristine waters of Lake Komani, you will witness the transformation of ancient valleys into fjords, a natural wonder that is sure to leave an impression. Upon reaching Valbona Valley, you are welcome to our Alpine-style hotel, where you will be surrounded by the untamed splendor of this "Gem of the Albanian Alps." The evening is a time to indulge your palate and nourish your soul. A traditional feast will be enriched by the mesmerizing performances of local artists, presenting cherished songs and folk dances. (Breakfast & Dinner)
---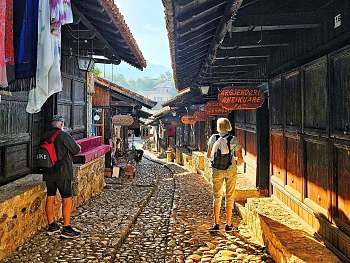 DAY 4
Journey South to Kruja
Start your day with a breakfast featuring local delicacies as we continue our valley tour by bus. We will cross the border and venture into Kosovo to visit Prizren, the second largest city, steeped in history and distinguished by its unique architectural center. Upon arriving in Kruja, we will explore its historical treasures, including the castle, the museum, the old bazaar, and the impeccably preserved ethnographic museum. Dinner will be a culinary delight featuring regional specialties in a reserved panoramic setting at the hotel restaurant, which shares the town's name. (Breakfast & Dinner)
---
DAY 5
Pogradec
Savor a delectable breakfast before departing for Pogradec, nestled along the shores of Lake Ohrid. Upon arrival, you will check in at the finest hotel in town before embarking on visits along the picturesque lakeside. Enjoy Lunch in the charming setting of Drilon, and we will make a stop in Tushemisht, where the lake's pristine waters flow directly from local yards. You will have the opportunity to taste the endemic Koran fish during lunch. In the late afternoon, take a leisurely stroll along the pedestrian street in Pogradec and soak in the enchanting atmosphere of this lakeside haven. (Breakfast & Lunch)
---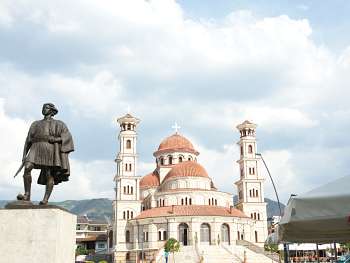 DAY 6
Korca and Voskopoja
Today, we set our course for Korca, the most significant center in the Southeast, a short 30-minute drive from Pogradec. Explore the historical center, museum, old bazaar, and the city's charming enclaves, including the country's oldest brewery. Visit Voskopoja, once a bustling trade and cultural hub in the 17th and 18th centuries and savor a traditional restaurant lunch. In the late afternoon, return to Pogradec for a tranquil night's rest. (Breakfast & Lunch)
---
DAY 7
Belsh Lakes and Berat
A highlight of our journey awaits as we visit a family-run agro-tourism establishment in the village of Seferan, near Belsh town. The landscapes will remind you of the picturesque Tuscany region in Italy. Indulge in the delightful dishes prepared with locally sourced ingredients. The host is eager to share her recipes with those interested, while her son will serenade us with guitar melodies during lunch. As we make our way to Berat, the scenic hills and numerous karstic lakes will captivate your senses. We will spend the night at the newest hotel, meticulously designed in a traditional architectural style and located within the historical center. (Breakfast & Lunch)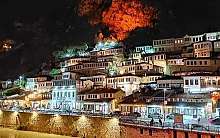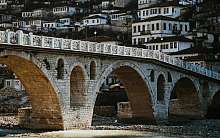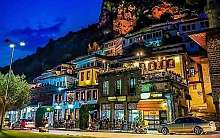 ---
DAY 8
Osumi Canyon
Start your day with a delicious breakfast featuring local products and embark on a guided tour of the charming city of Berat, exploring its rich history and magnificent highlights, including the Onufri Museum. Following the cultural and historical exploration, you will be awe-struck by the natural wonder of the Osumi Canyon. To conclude the day, savor a delectable dinner in Berat, featuring an exclusive mini-event presented by local artists, adding a touch of enchantment to your experience. (Breakfast & Dinner)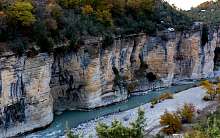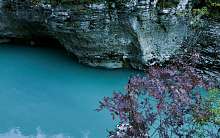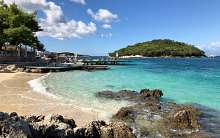 ---
DAY 9
Durres and Tirana
As we make our way back to Tirana, we will take a different route, passing through the historic city of Durres. Though minimal remains survive, Durres stands as one of the oldest cities in Albania, founded as Epidamnos in the ancient region of Illyria in 627 BC. In the early afternoon, we will arrive at a charming resort on the outskirts of Tirana, where you can unwind and come together for a communal gathering in the spacious area dedicated to banquets and special occasions. The resort's restaurant is celebrated for its unique delicacies and dishes, as well as its fresh beer brewed on-site. (Breakfast & Dinner)
---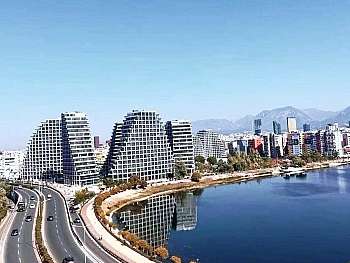 DAY 10
Farewell and Departure
Before your flight departs, you have the option to explore Tirana's city center or visit a large shopping center, marking the end of our remarkable journey through Hidden Albania. (Breakfast)
---
Choose your preferred dates and book your trip today
BOOK NOW
Dates & Rates
---
Departure date
Start Date
End Date
Starting At
Double Occupancy
Single Price
Child Price
Book
7 Apr 2024
8 Apr 2024
16 Apr 2024
$2,185
$1,858 (Book by Dec 8)
$2,664
$2,264 (Book by Dec 8)
$1,639
$1,393 (Book by Dec 8)
BOOK BOOK NOW
12 May 2024
13 May 2024
21 May 2024
$2,185
$1,858 (Book by Dec 8)
$2,664
$2,264 (Book by Dec 8)
$1,639
$1,393 (Book by Dec 8)
BOOK BOOK NOW
9 Jun 2024
10 Jun 2024
18 Jun 2024
$2,185
$1,967 (Book by Dec 8)
$2,664
$2,397 (Book by Dec 8)
$1,639
$1,475 (Book by Dec 8)
BOOK BOOK NOW
23 Jun 2024
24 Jun 2024
2 Jul 2024
$2,185
$1,967 (Book by Dec 8)
$2,664
$2,397 (Book by Dec 8)
$1,639
$1,475 (Book by Dec 8)
BOOK BOOK NOW
7 Jul 2024
8 Jul 2024
16 Jul 2024
$2,185
$2,664
$1,639
BOOK BOOK NOW
21 Jul 2024
22 Jul 2024
30 Jul 2024
$2,185
$2,664
$1,639
BOOK BOOK NOW
11 Aug 2024
12 Aug 2024
20 Aug 2024
$2,185
$2,664
$1,639
BOOK BOOK NOW
8 Sep 2024
9 Sep 2024
17 Sep 2024
$2,185
$1,858 (Book by Dec 8)
$2,664
$2,264 (Book by Dec 8)
$1,639
$1,393 (Book by Dec 8)
BOOK BOOK NOW
* All prices in USD