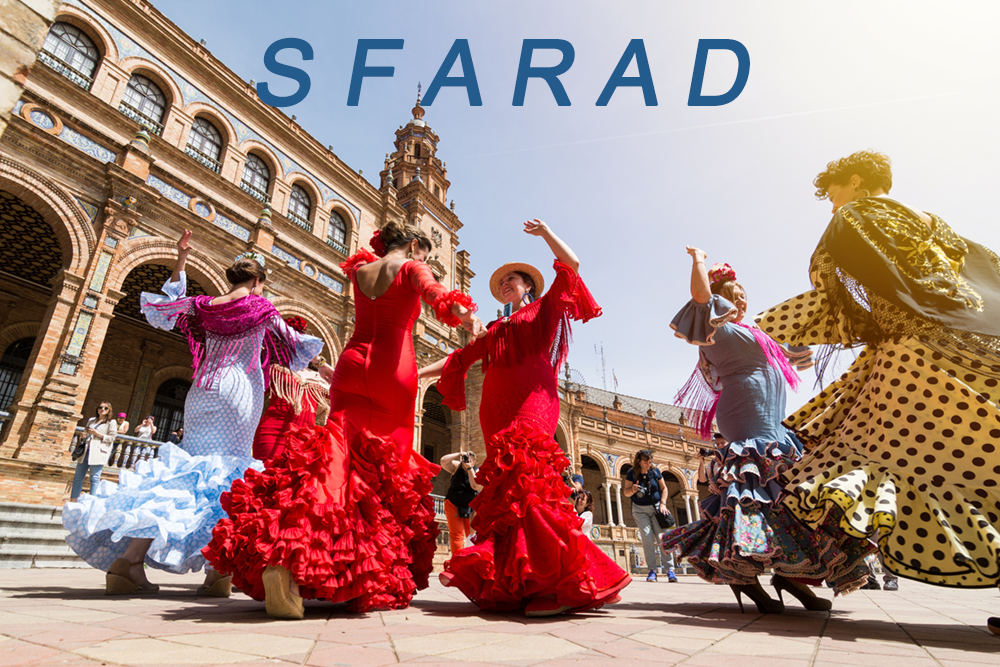 Space on the tour is limited. Please reserve your space now!
---
DAY 1 - 08 MAY
OVERNIGHT FLIGHT
Overnight flight to Madrid. Get ready for an amazing tour.
(Flight is not included)
---
DAY 2 - 09 MAY
Arrival in Madrid, Reina Sofia Museum
Arrive at Madrid International Airport. Lobby meet up in the evening for trip orientation. Check- in at hotel.Panoramic tour of Madrid by bus, including many different sights such as Retiro Park, Puerta de Alcala, Salamanca neighbour, Las Ventas Bullring, Real Madrid´s Bernabeu Stadium, Madrid´s most famous fountains (Neptune & Cibeles) and Castellana Avenue. We will continue with a walk of the Literary Quarter of Madrid: the center of the Spanish Golden Age of writing & temporary home to Cervantes, Lope De Vega or Quevedo. Its winding, charming cobblestone streets are engraved with quotes of famous authors, quaint shops, literary plaques and streets named after famed writers. After lunch, we will visit the Reina Sofia Museum and view Picasso's masterpiece "Guernica". Festive Welcome Dinner at a traditional Spanish restaurant. Overnight: Hotel Madrid
---
DAY 3 - 10 MAY
Segovia
Breakfast at the hotel.
Morning transfer to Segovia, Segovia is easily one of the most charming and historical cities in Spain. In addition to its famous Roman Aqueduct, numerous Romanesque churches, the Cathedral (the "Grand Dame of Spanish Cathedrals" for its elegance) and the Fortress all combine to form this magnificent landscape that presides over this part of Castile. We will visit its Alcazar Palace is one of the most majestic in Spain, built on top of a rock due to its unique ships' bow shape and is said to be one of the inspirations for Walt Disney's Cinderella Castle. Remnants of the former Jewish Quarter may also be traced at the center of town when visiting. Return to Madrid. Free evening. Overnight: Hotel Madrid
---
DAY 4 - 11 MAY
Madrid
Breakfast at the hotel. Stroll the main streets of Madrid's oldest quarter, the original site of Madrid, called "Austrias," with its small plazas and narrow streets. Visit the Plaza de la Villa, home to the city hall and the 15th century Tower of Los Lujanes, the site of the original Arab shuk of Madrid.
Then we visit the 17th century Plaza Mayor, the center of historic Madrid, sight of festivals and bullfights, but also the place where Jewish history marks the great trauma of the many auto-da-fe's (public penance, followed by burning at the stake) that took place at this site. After this we will continue towards the grounds of the impressive Royal Palace, the official residence of the King of Spain which we will visit. Free evening. Overnight: Hotel Madrid
---
DAY 5 - 12 MAY
Toledo
Breakfast at the hotel.
Drive to Toledo. Guided visit to the Old City of Toledo, and capture a sense of the glory that was built on a convergence of Christianity, Islam, and Judaism. Take in the Jewish Quarter, the Shmuel Halevi statue and the Shmuel Halevi Abulafia Synagogue, which was turned into a church, known as Nuestra Senora del Transito, the Sephardic Museum, and the Santa Maria La Blanca Church which was formerly the Grand Synagogue. Enjoy views of the Grand Toledo Cathedral. Free Evening. Overnight: Hotel Toledo
---
DAY 6 - 13MAY
Cordoba & Lucena
Breakfast at the hotel.
Explore the Jewish Quarter inhabited by Jews since the year 840, including Plaza Tiberias and the Yehuda Halevi Square. View the statue of Maimonides and visit the small Moorish-styled building known as the Maimonides Synagogue (*** to be visited on Sunday, since the Synagogue is closed on Mondays). Lunch on your own at a local restaurant. Visit Cordoba's famous Cathedral-Mosque & the Mezquita, dating from 785, with its 1,000 colored columns. Stroll through the restored heart of Cordoba, one of the largest medieval quarters in Europe. Continue on to Lucena, the "City of Jews".
During our stopover in Lucena we will contemplate its Necropolis in the outskirts of town, its Jewish heritage has transcended time. Drive to Seville. Free evening. Overnight: Hotel Seville
---
DAY 7 - 14 MAY
Seville
Breakfast at the hotel.
Visit the Santa Cruz neighborhood, formerly Seville's Jewish Quarter, once known as La Juderías, with its winding alleyways and remnants of Jewish life found within the contemporary city. Visit the beautiful Alcazar Palace with its fascinating Mudejar style designs and ornate gardens.Followed this, we will see the Great Cathedral of Seville, the burial place of Christopher Columbus, and La Giralda, built in the 12th century, whose bell tower became a symbol of the city. Return to the hotel. Free evening. Overnight: Hotel Seville
---
DAY 8 - 15 MAY
Granada
Breakfast at the hotel.
Bus transfer to Granada, the last stronghold of the Moors before it fell to Isabella and Ferdinand in 1492. Upon arriving, visit the Alhambra Palace and Generalife Gardens. Visit the Albaycin, the old Moorish neighborhood, with its narrow streets and beautiful white houses, now a UNESCO World Heritage Site. Guided visit to the Realejo, the former Jewish Quarter and the site of the original town bearing the name Garnata al-Yahud. Don't miss the statue of Samuel ben Yehudah ibn Tibbon, translator of the Kuzari and the "Guide for the Perplexed".
Explore the streets and traditional neighborhood, which have no remains of the Jewish community but a host of legends. Enjoy a farewell dinner at a local restaurant.
Overnight: Hotel Granada
---
DAY 9 - 16 MAY
Barcelona
Breakfast at the hotel. Transfer to the Seville airport for the flight to Barcelona.
Land in Barcelona and start with a panoramic bus tour of Barcelona beginning at Montjuic (the Mountain of the Jews) including a fantastic view over the whole of this fantastic city. Lunch on own in Barcelona. Continue driving along the streets on the way to the Sagrada Familia where we will have a Guided visit of this Gaudi's unfinished masterpiece, considered an awe-inspiring, unique place of worship. Our tour will also take us to the other landmarks, Barcelona is famous for such as the Plaça de Catalunya, the plaza which marks the beginning of the Passeig de Gracia, the most stylish street in Barcelona where we will be able to see Antoni Gaudi's extraordinary buildings, Casa Batllo and Casa Milo (UNESCO World Heritage Site).Check in at hotel. Overnight: Hotel Barcelona
---
DAY 10 - 17 MAY
Barcelona
Breakfast at the hotel.
We will leave our hotel on foot and begin our tour at the Ramblas, Barcelona's historic promenade.Just off the Ramblas encounter La Boqueria, Barcelona's famous market, considered one of the best in the world. Guided Walk through the Gothic Quarter and then the ancient Jewish Quarter, with a synagogue that may date to the third century. We will continue with the assistance of your guide and enjoy the Picasso Museum Experience, also taking you to Picasso's favorite haunts. Free evening. Overnight: Hotel Barcelona
---
DAY 11 - 18 MAY
Girona & Besalú
Breakfast at the hotel.
Drive to a full day tour to Girona and Besalú. Walk through the restored Call – what was once Girona's old Jewish neighborhood and continue to the Bonastruc Ca Porta Centre, a center of Jewish life and culture, where an excellent Museum displays a synthesis of Jewish mystical traditions of Spain.
We will leave Girona and after a short drive arrive to the medieval City of Besalú and visit the ancient Mikveh – this is a a true gem for the city's historical Jewish Heritage. Festive concluding group dinner. Overnight: Hotel Barcelona
---
DAY 12 - 19 MAY
Returning home
Breakfast at the hotel.
Transfer to Barcelona Airport for the return flight back home.
END OF OUR SERVICE.
---
Choose your preferred dates and book your trip today
BOOK NOW
Dates & Rates
Tour operates with a minimum of 10 people travelling


---
Departure date
Start Date
End Date
Starting At
Double Occupancy
Single Price
Child Price
Book
08 May 2023
09 May 2023
19 May 2023
$4,486
$5,336
$4,486
BOOK BOOK NOW
* All prices in USD
Inclusions
---
THE PROPOSAL INCLUDS
Meet and greet upon arrival by IBMT representative at the airport
Transfer from airport hotel / airport
10 nights' accommodation at below hotels
Daily buffet breakfast
Welcome dinner
Farewell dinner
Air-conditioned motor coach
English speaking tour leader on site
English speaking local tour guides in each site
Trunk capacity 1 luggage + carry on or backpack.
Flight from Granada to Barcelona (1 checked-in baggage up to 23 kgs + 1 carry-on)
Portage
Entrance fees & guiding services as follows:
Day 1: Official Guide for Museums & Panoramic (8 hours, Madrid) Reina Sofia Museum access, Madrid
Day 2: Official Guide (3 hours, Segovia) Alcazar Palace access, Segovia
Day 3: Official Guide for walking tour (3 hours, Madrid) Royal Palace access, Madrid
Day 4: Official Guide full day (4 hours, Toledo) Santa Maria La Blanca Synagogue access, Toledo Transito Synagogue access, Toledo
Day 5: Official Guide (2 hours, Cordoba) Mosque/Cathedral access, Cordoba Necropolis access, Lucena
Day 6: Official Guide (3 hours, Seville) - Alcazar Palace access, Seville
Day 7: Official Guide half day (6 hours, Granada) - Alhambra Palace access, Granada
Day 8: Official Guide full day (8 hours, Barcelona) -Sagrada Familia Basilica access, Barcelona
Day 9: Official Guide half day, Barcelona (4 hours, Barcelona) -Picasso Museum access, Barcelona
Day 10: Official Guide full day (8 hours, Girona & Besalu) -Jewish Museum access, Girona -Mikveh access, Besalu
HOTEL 4 & HALF STARS SELECTION / OR SIMILAR
3 Nights – Catalonia Atocha - https://www.cataloniahotels.com/es/hotel/catalonia-atocha
1 Night – Pintor El Greco (Toledo) - https://www.hotelpintorelgreco.com/
2 Nights – Zenit Seville (Seville) - https://sevilla.zenithoteles.com/en
1 Night – Porcel Sabica (Granada) - https://www.hotelporcelsabica.com/es
3 Nights – Catalonia Eixample 1864 (Barcelona) - https://www.cataloniahotels.com/en/hotel/catalonia-eixample-1864
Meals plan as follows (transfers on foot):
Breakfast at hotels each morning
Day 1 - Welcome Dinner, local restaurant, Madrid
Day 7 - Dinner, local restaurant, Granada
Day 10 – Dinner, local restaurant, Barcelona
SPECIAL MEAL REQUIREMENTS (Including KOSHER)
CLIENT is obligated to advise TVNX by maximum 2 weeks before the groups' arrival on the special meal requirements of the group participants. This includes Vegetarians,
Vegans, Kosher, Celiac, etc. Any failure to do so will exempt TVNX of all corresponding responsibilities.
TVNX will do its utmost to satisfy all requirements however, the final service providers have the full and final responsibility on the products served.
As a general rule (with Israeli / Jewish Markets), TVNX requests "KOSHER STYLE" menus from all meal providers (Hotels, Restaurants, Caterings, etc.). These include the following standards:
No pork
No seafood
No mixing of dairy and meat products
Miscellaneous:
Audioguides throughout itinerary
All tips for the following service providers: Guides, Hotel & Restaurant staff, Bus Drivers
2 bottles of water per person and day
Porterage at hotels
Tour Escort
Experienced English speaking tour escort throughout including all his expenses (Note: I use my team of escorts who are of Israeli origin and have lived here in Spain for many years, and who know the terrain, the languages and have rich and varied experience with Israeli and Jewish groups)
Local Guides
Licensed local English-speaking guides wherever needed as per itinerary especially where visits to important sites are include as follows:
TOUR ESCORT
The Tour Escort is an-English speaking professional who will give, during the day travel, general information about the country so as helping the clients to find restaurants during their free meals, helping them during the check-in and check-out, or any others needs the clients might have during the tour.
The Tour Escort is not able to do any local visit because of a Government touristic law.
ADDITIONAL SERVICES ON REQUEST
Seville optional visit: Flamenco show; Entrance 60€ including transfer
THE PROPOSAL DOES NOT INCLUDE
Airfare & departure taxes (can be purchased upon booking with IBMT)
Meals and beverages not mentioned
The city tax in Lisbon of € 2,00 per person per night (subject to current rate).
The city tax in Porto of € 2,00 per person per night (subject to current rate).
Porterage
Personal expenses
Tips not included -
- Tip for the bus driver 3€ per day/per person.
- Tip for the National Tour Guide 5€ per day/per person.
- Tip for local guides 4€ per visit/per person.
Travel & Medical insurance
Other services not mentioned in the program.