Return airfare & Land incldued from Toronto
Travelling from a different city: please contact us for price.

Departure taxes are extra, please see Inclusions for more information
---
DAY 1
OVERNIGHT FLIGHT TO ROME
Overnight flight from Toronto to Rome.
Any other departure points will be avilable upon request.
---
DAY 2
ARRIVAL - ROME
Upon arrival to Rome Warm welcome by IBMT Tours representative at the airport. You will be guided after custom to pick up your luggage and meet your English-speaking assistant. Transfer to your hotel by private coach to city center and check-into Hotel Universo. Afternoon 3 Hours City guide in Rome: Spanish steps, Trinità dei Monti, Trevi Fountain, Pantheon, Piazza Navona. Dinner on your own. Overnight Hotel Universo Rome.


---
DAY 3
ROME | VATICAN JEWISH TOUR & SAN PETER SQUARE
After breakfast at the hotel we will drive to the Vatican starting our tour of the Vatican from a Jewish perspective. Continuing a 3 Hours City guide in Rome: San Peter square and Basilica, Vatican Museum.
Lunch on your own.
Yours afternoon is at leisure, an opportunity for own walking in the city. Dinner on your own. Overnight Rome Hotel Universo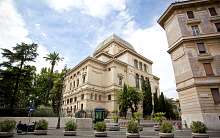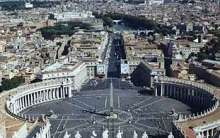 ---
DAY 4
ROME | GHETTO | JEWISH MUSEUM | SYNAGOGUGE
Breakfast at the hotel.
Half-day guided tour of Jewish Ghetto. The Roman Ghetto was established as a result of Papal Bull Cum nimis absurdum, promulgated by Pope Paul IV on 14 July 1555. The bull also required the Jews of Rome, which had existed as a community since before Christian times and which numbered about 2,000 at the time, to live in the ghetto. The ghetto was a walled quarter with its gates locked at night. The wall was built under the direction of the architect Giovanni Sallustio Peruzzi. Visit the Jewish museum and Synagogue.
Lunch on your own. Afternoon at leisure
Dinner on your own
Overnight Rome Hotel Universo
---
DAY 5
ROME – DEPARTURE FLIGHT TO DJERBA TUNIS
Breakfast and check out of the hotel. Transfer to the airport to continue your journey to Djerba Tunis via Nice France and arrive to Djerba around 6:30pm local time.
Upon arrival we will be transferred to our hotel and check in to the Radisson Blu. Kosher dinner will be served at the hotel upon arrival. Overnight Djerba – Radisson Blu Hotel at the beach. (B, D)
---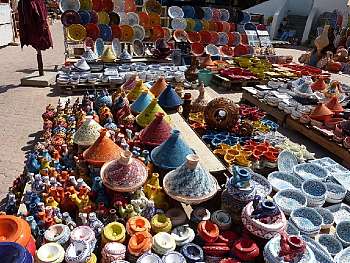 DAY 6
DJERBA | HOMT SOUK | JEWISH QUARTER | SHABBAT SERVICE
Friday check out of Radisson Blu. a bus tour the island. visit ceramic works, Homt Souk (the island port), time for shopping in the local souk. Continue

to the Jewish quarter (Hara Kebira) and enjoy a light lunch. Transfer to your hotel Le Grand. Prepare for Shabbat. Get Shabbat Times from Alit (our representative in Djerba). Candle lighting time on Friday and havdala time on Saturday night. After a brief tour of Hara Kebira, we will hear the shofar announcing candle lighting and slowly the synagogues will fill for Kabbalat Shabbat. The prayers will be followed by a sumptuous Shabbat dinner featuring Tunisian Jewish cuisine. Wine and liquor will sweeten the evening. Overnight hotel Le Grand.
---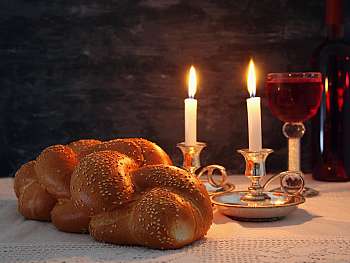 DAY 7
DJERBA | SHABBAT KEHILA SERVICE | MINGLING WITH JEWISH COMMUNITY.
Shabbat morning. Optional Tfilot we will be walking to the Jewish quarter to participate in Shabbat Kiddush and Shabbat morning sweets from the Kehila. Lunch will be served with special Djerban Hamin baked in a community oven. All meals with Hara Kebira families. Shabbat afternoon special tour with Epi, visiting the Jewish school, meeting community members, and enjoying free time in the village. Traditional Jewish dinner served in the village. Staying at the hotel Saturday night.
Overnight Djerba Le Grand hotel. (B, L, D)
---
DAY 8
DJERBA | RETURN FLIGHT BACK HOME
Breakfast at the hotel. First part of the morning at leisure and transfer to the airport for your return flight back home. (B)

---
Choose your preferred dates and book your trip today
BOOK NOW
Inclusions
---
Inclusions:
Return flight from Toronto to Rome & Djerba

Meet and assist in Rome upon arrival
Meet and assist in Djerba upon arrival

Transfer from Airport to hotel

Air conditiong motor coach through out the tour

6 Nights hotel accomodation

Entrance fee for all site

English speaking guide in Italy

Dr. Seymour Epstein will guide thorugh Djerba

Daily breakfast

Meals through out the tour where mentioned
PROPOSED ACCOMMODATIONS:
DATES CITY HOTEL ROOM TYPE # NIGHTS
In Out
OCT 15 OCT 18 ROME UNIVERSO Standard 3
OCT 18 OCT 19 DJERBA RADISSON BLU Standard 1
OCT 19 OCT 21 DJERBA LE GRAND Standard 2

TRANSFERS:
Arrival: From Fiumicino airport to hotel in Rome with escort from Baggage Claim
Departure: Transfer from hotel in Rome to Fiumicino Airport with assistance
Arrival: From Djerba airport to hotel in Djerba
Departure: From hotel in Djerba to airport
Not Included:
Departure taxes of approximate USD $142.00
Tips to driver, guide, and hotel personnel gratuities of a personal nature
Travel Insurance (call for details)
Deposits, Cancellations, and Payments
The above proposal is subject to your approval. Hotel reservations, driver and guide services will not be processed without your verbal authorization to proceed, as well as a deposit of USD $400.00 per person, payable by check or any major credit cards with proper authorization only.
The balance of all land and/or airfare (due 60 days prior to departure or within 7 days if booking is made less than 60 days in advance of departure) is payable by check or by any major credit card with proper authorization only.
CANCELLATION CHARGES PRIOR TO DEPARTURE – PER PERSON
(Unless otherwise advised for Peak Periods *)
Up to 61 Days prior to departure………………. USD $300 penalty
60 – 45 days prior ……………………………………….50% of Trip including flights
45 days to departure date ………………………….100% of trip
Any cancelation and all refund requests for cancellation should be made by an e-mail
INSURANCE INFORMATION
We are pleased to offer you our low-cost (Canada) TIPS Travel Professional Insurance, (USA) Travel Guard Insurance with its multi-benefit advantages ideal to cover all your travel insurance needs.
For insurance please contact IBMT Tours at 1.877.977.4268 Ext 102.