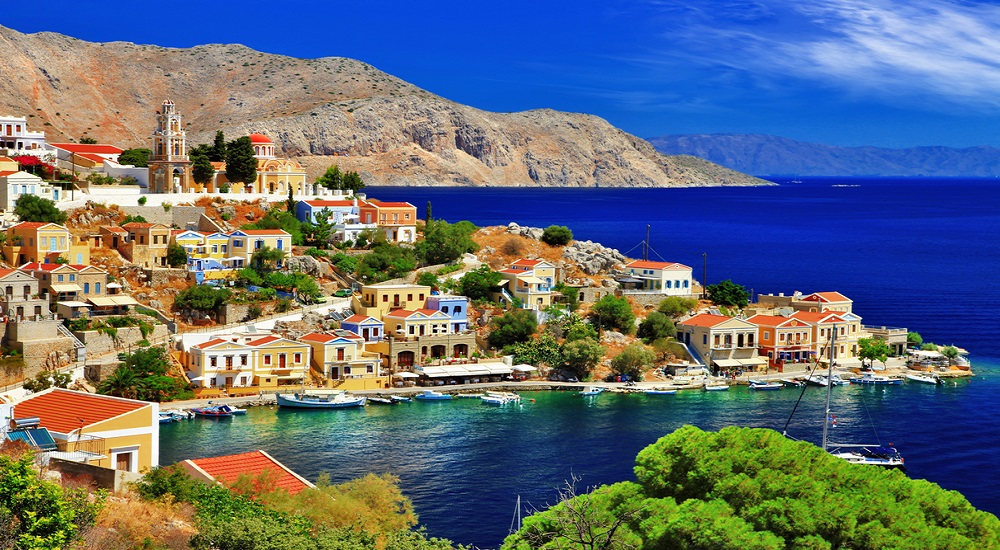 10 Days - Thessalonica, Veria, Ioannina, Meteora, Kalambaka, Volos & Athens
This tour operates with minimum of 10 people
---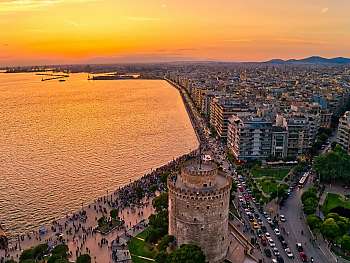 Day 1
Thessalonica
Upon arrival you will be met with IBMT Tours Europe representative who will give you an overview of the city and its Jewish history on the way to our hotel. Check in and leisure time until dinner.
Overnight in Thessaloniki.(Dinner)
---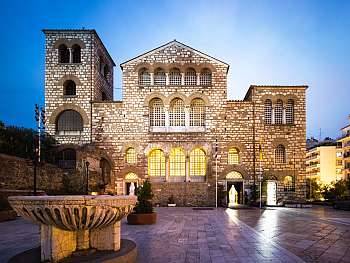 Day 2
Thessalonica
Breakfast at hotel. Walking city tour - visiting the Square of Jewish Martyrs and the ceremonial Synagogue followed by a presentation at the Jewish Museum where we learn about a community that once had 50 synagogues and was called Mother of Israel, home to famous Jewish mystics, legalists, poets and rabbis. Our coach takes us to quarters of the city that were once wholly Jewish and to archaeological sites going back to Roman and Hellenic times, villas once inhabited by prominent Jewish residents and the new Holocaust Memorial on the site of the cemetery destroyed by the Nazis, now the Aristotle University campus. We return to our hotel for dinner and overnight.(Breakfast, Dinner).
---
Day 3
Thessalonica
After breakfast we visit the Archaeological Museum and the famous landmark, the Rotunda, close to each other and the wonderful promenade from which you can take a boat trip if you wish at the end of the tour. Dinner at Local Taverna with traditional Greek music.
(Brekfast, Dinner)
---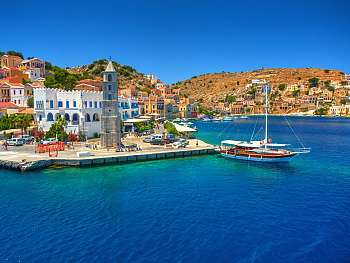 Day 4
Thessalonica | Veria
Breakfast at hotel, In this day we head for Vergina where the unearthing in 1977 of the richly extravagant tombs of King Phillip 11, father of Alexander the Great, became as famous as the Dead Sea Scrolls. We continue to Veria where the Jewish community existed in this Macedonian town as early as the first century. That was the case for the following two millennia, albeit with interruptions until 1943, when the Holocaust brought Jewish life in Veria to an abrupt end. Barbouta, the Jewish quarter of Veria we hear about the town's rich Christian heritage and absorb its Jewish quarter with its unique setting and the atmosphere that still prevails at the natural river Mikva. Today there are no Jews in Veria, a town of some 66.000 residents, but the quarter where they lived -Barbouta- still stands, and at his heart a synagogue that draws a small but steady stream of visitors. Dinner and overnight in Veria.(Breakfast, Dinner)
---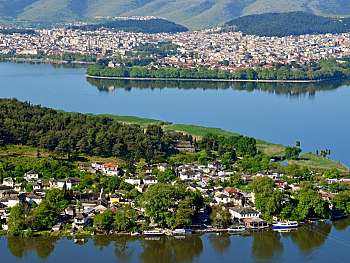 Day 5
Veria | Ioannina
After breakfast, we leave Veria for Ioannina where we have a group lunch under the grand arches of the Stoa Louli restaurant, once a trade centre for Jewish leather merchants. Inside the castle we stroll through the ancient cobbled streets of the former Jewish Kastro quarter and visit the Romaniot Kal Kadosh Yashan Synagogue where we are shown its unique artefacts. Our guide will show us around the medieval Jewish cemetery which is in a forest. We also have time to walk around the city's beautiful lake or take a coffee at the lakeside before driving to the hotel for dinner and overnight.(Breakfast, Lunch, Dinner).
---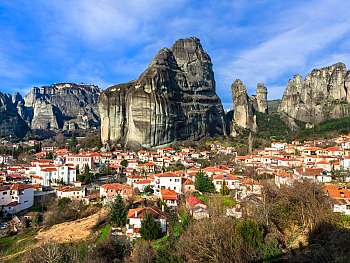 Day 6
Ioannina | Meteora | Kalambaka
Afte breakfast at hotel we take a picturesque drive to Meteora site of the famous 14th century Byzantine monasteries, suspended on granite rocks. As well as marvelling at the views we visit two of the monasteries. We stop for lunch at Kalambaka. Dinner and overnight in Kalambaka.(Breakfast, Lunch, Dinner)
---
Day 7
Kalambaka | Volos
After breakfast We set off for Volos which is surrounded by beautiful mountains and looks out on a charming bay. We have a group lunch at an excellent restaurant on the promenade and have time to stroll by the water's edge. We then walk to a Holocaust memorial and through the Jewish neighborhood to the Synagogue and community center and learn about a community that date back to the 6th century and still has weekly services. We dine and spend the night in Volos.(Breakfast, Dinner)
---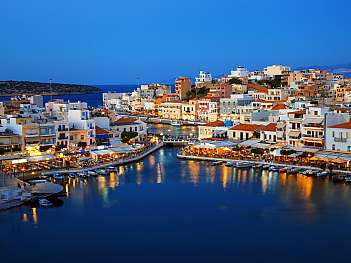 Day 8
Volos | Athens
We leave Volos to head for Athens. We arrive late afternoon for a tour of the Acropolis. There is also time for our bus to tour the other remarkable sites of the city, Constitution Square with its picturesque guards, the Temple of Olympian Zeus, Hadrian's Arch, the Theatre of Dionysus and the Olympic stadium. Check in to the hotel for dinner and overnight.(Breakfast, Dinner)
---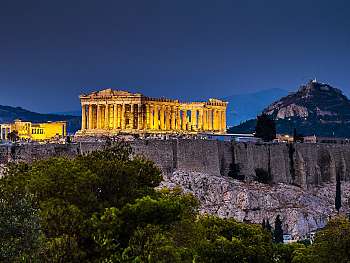 Day 9
Athens
After breakfast, we see the Beth Shalom Sephardic Synagogue and the Romaniot Synagogue just opposite. Then we visit the Jewish Museum. Our tour guide will lead us through their excellent exhibits, enhancing our understanding of Greek Jewish history. After this, we will visit the Ancient Greek Agora, the place where was the ancient synagogue of Athens. Dinner and overnight in Athens.(Breakfast, Dinner)
---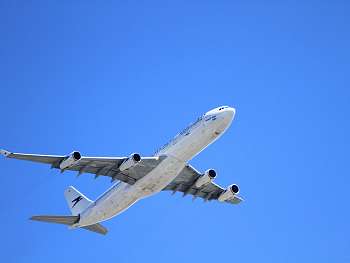 Day 10
Athens
Breakfast. According to the schedule of your flight you will be transferred to Athens Airport.(Breakfast)
---
Choose your preferred dates and book your trip today
BOOK NOW
Included service:
9 nights hotel accommodations
Deluxe and Modern A/C Bus for Tours & Transfers as per itinerary with Wi Fi Service (Free of Charge)
English Speaking Professional Tour Guide/Assistant for tours and transfers as per itinerary
Entrance Fees to Jewish Museum of Thessaloniki, Rotonda (Thessaloniki), Vergina, Meteora (2 Monasteries), Acropolis of Athens, Ancient Greek Agora of Athens & Jewish Museum of Athens.
Daily breakfast
One lunch in Ioannina at Stoa Louli & 1 lunch at sea side restaurant in Volos
Daily dinners (1 Dinner at Local tavern with live music in Thessaloniki)
Headsets for the tours
Porterage Service at the hotels
Accommodation Tax
1 Bottle 0.5 lt of water per person per day

Not included services:
International flights
Any personal expenses
Anything that is not mentioned "Package Includes"
Travel Insurance
Tips for Guide/Driver/Assistant

HOTELS 4/5 Stars:
Thessaloniki: 4* Hotel Capsis or Similar on HB Basis.
Veria: 4* Hotel Aiges Melathron or Similar on HB Basis.
Ioannina: 5* Hotel Du Lac or Similar on HB Basis.
Kalambaka: 4* Hotel Divani Kalambaka or Similar on HB Basis.
Volos: 4* Hotel Domotel Xenia Volos or Similar on HB Basis.
Athens: 4* Hotel Tiatania or Similar on HB Basis.
*subject to change to similar hotels due to availability