Dubai, Sharjah & Abu - Dhabi
---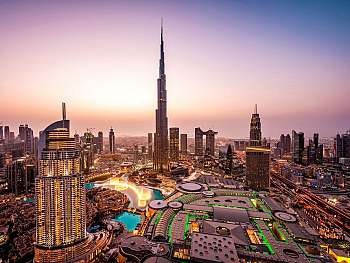 Day 1
Arrival day - Dubai
Arrival at the Dubai International Airport, reception by an IBMT Tours representative at Airport and transfer to the Hotel.
---
Day 2
Safari Dubai
After breakfast, it's leisure morning. You can take Half day City tour or go to other attractions like, Dubai Miracle Garden, Dubai Frame, etc. In the afternoon our most popular excursion, the Land Cruisers will pick you up between 3 and 3:30 pm, for an exciting journey through the fantastic dunes of the Emirati desert. You can take unique photos of the Arabian sunset and once it disappears behind the golden dunes, we will go to our camp located also in the desert. The smell of fresh grilled lamb skewers, bonfires, the smell of traditional water pipes and the relaxing sounds of Arabic music will make you enjoy an authentic and unforgettable Bedouin night. After having recovered strength after the sumptuous dinner, a dancer, will show you the ancient art of Belly Dance. You can also make sandboard, camel ride and Henna tattoos, everything is included along with water, soft drinks, tea and coffee. Return to the hotel around 9:30 pm. Meals: Breakfast & dinner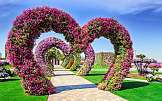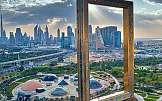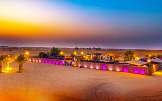 ---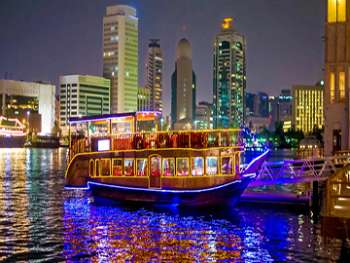 Day 3
Dubai
After breakfast, city tour half day through the city with a guide in English. Departure from the hotel to the Deira area, where you will visit the Dubai Museum. Then you will go through the market of the species and the gold market, crossing the channel with the famous "Abras", the typical boats of the first fishermen of the Emirates. Then we will move to the Jumeirah neighborhood, where we will find the typical mansions of the Emiraties. Stop for photos of the Jumeirah Mosque and at the Burj Al Arab, the only 7 star hotel in the world. Return to the hotel by the main avenue Sheik Zaed Road where we will see the Burj Khalifa, the tallest building in the world.

Leisure afternoon, explore the city and enjoy the beautiful Sunset at the top of the Burj Khalifa and Dubai musical fountain.
In the evening, departure at 7:30 p.m. to enjoy an exquisite dinner (international buffet) on board a traditional Dhow, sailing for two hours through the Dubai Marina appreciating all its views. Your trip will take you along the bay appreciating all its illuminated skyscrapers and the new Blu Waters Island with the impressive Dubai Eye. Return to the hotel around 11:00 pm. Meals: Breakfast & dinner
---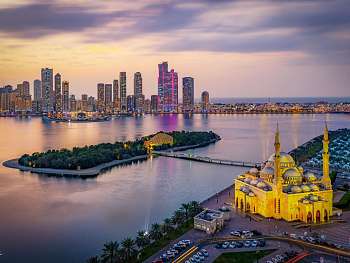 Day 4
Sharjah
After breakfast departure from the hotel in a tour of approximately 20 minutes to the Emirate of Sharjah which has established itself as the cultural center of the Middle East. Our tour begins at the roundabout monument of culture "Corán Square", we continue our trip to the Museum of Islamic Civilization. Then we will go to the Corniche, visiting the oldest market of the emirate which is located in the historic center of the city, known as the "Al Arsa market". Then we will visit the modern area and visit the central market or better known as the "Blue Market" with its typical Arab architecture where we will finish our tour.
Upon return to Dubai enjoy the rest of the afternoon and evening at your leisure. You can visit attractions like Dubai Theme Park, Kidzania Etc.(Tickets purchased locally)
Meals: Breakfast
---
Day 5
Abu Dhabi
After breakfast, visit to Abu Dhabi with an English speaking guide. on our 2 hours tour from Dubai, we will pass through Jebel Ali port, the largest port in the world made by man, to the capital of UAE. We will admire the Mosque of Sheikh Zayed, the third largest in the world, as well as his tomb. We will continue to the Al Maqta bridge passing through one of the richest areas of Abu Dhabi. Arrival at the Corniche street that is compared with Manhattan for its Skyline. International buffet lunch in a 5* hotel restaurant. Stop for photos at the Emirates Palace hotel. We continue to Al Batee area, where the palaces of the Royal family are located. Then we will make a stop at the Heritage Village, a reconstruction of a traditional oasis village that offers an interesting insight into the emirate's past. The traditional aspects of the desert lifestyle, which include a bonfire with coffee makers, a goat hair tent and a falaj irrigation system, are attractively displayed in the open museum. Finally, when returning to Dubai we pass through the Ferrari park (entrance not included) to take pictures or make purchases (20 minutes).
Meals: Breakfast & lunch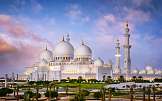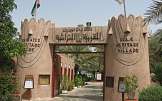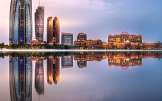 ---
Day 6
Dubai
After breakfast, check out and transfer to the airport for your flight back home.
Meals: Breakfast
---
Choose your preferred dates and book your trip today
BOOK NOW
Dates & Rates
---
Departure date
Start Date
End Date
Starting At
Double Occupancy
Single Price
Child Price
Book
17 Dec 2023
18 Dec 2023
23 Dec 2023
$938
$797 (Book by Dec 31)
$1,300
$1,105 (Book by Dec 31)
$923
$785 (Book by Dec 31)
BOOK BOOK NOW
24 Dec 2023
25 Dec 2023
30 Dec 2023
$1,208
$1,027 (Book by Dec 31)
$1,840
$1,564 (Book by Dec 31)
$1,103
$938 (Book by Dec 31)
BOOK BOOK NOW
31 Dec 2023
1 Jan 2024
6 Feb 2024
$1,208
$1,027 (Book by Dec 31)
$1,840
$1,564 (Book by Dec 31)
$1,103
$938 (Book by Dec 31)
BOOK BOOK NOW
7 Jan 2024
8 Jan 2024
13 Jan 2024
$938
$797 (Book by Dec 31)
$1,300
$1,105 (Book by Dec 31)
$923
$785 (Book by Dec 31)
BOOK BOOK NOW
14 Jan 2024
15 Jan 2024
20 Jan 2024
$938
$797 (Book by Dec 31)
$1,300
$1,105 (Book by Dec 31)
$923
$785 (Book by Dec 31)
BOOK BOOK NOW
21 Jan 2024
22 Jan 2024
27 Jan 2024
$938
$797 (Book by Dec 31)
$1,300
$1,105 (Book by Dec 31)
$923
$785 (Book by Dec 31)
BOOK BOOK NOW
4 Feb 2024
5 Feb 2024
10 Feb 2024
$938
$797 (Book by Dec 31)
$1,300
$1,105 (Book by Dec 31)
$923
$785 (Book by Dec 31)
BOOK BOOK NOW
11 Feb 2024
12 Feb 2024
17 Feb 2024
$938
$797 (Book by Dec 31)
$1,300
$1,105 (Book by Dec 31)
$923
$785 (Book by Dec 31)
BOOK BOOK NOW
25 Feb 2024
26 Feb 2024
2 Mar 2024
$938
$797 (Book by Dec 31)
$1,300
$1,105 (Book by Dec 31)
$923
$785 (Book by Dec 31)
BOOK BOOK NOW
3 Mar 2024
4 Mar 2024
9 Mar 2024
$938
$797 (Book by Dec 31)
$1,300
$1,105 (Book by Dec 31)
$923
$785 (Book by Dec 31)
BOOK BOOK NOW
10 Mar 2024
11 Mar 2024
16 Mar 2024
$938
$797 (Book by Dec 31)
$1,300
$1,105 (Book by Dec 31)
$923
$785 (Book by Dec 31)
BOOK BOOK NOW
17 Mar 2024
18 Mar 2024
23 Mar 2024
$938
$797 (Book by Dec 31)
$1,300
$1,105 (Book by Dec 31)
$923
$785 (Book by Dec 31)
BOOK BOOK NOW
24 Mar 2024
25 Mar 2024
30 Mar 2024
$938
$797 (Book by Dec 31)
$1,300
$1,105 (Book by Dec 31)
$923
$785 (Book by Dec 31)
BOOK BOOK NOW
31 Mar 2024
1 Apr 2024
7 May 2024
$938
$797 (Book by Dec 31)
$1,300
$1,105 (Book by Dec 31)
$923
$785 (Book by Dec 31)
BOOK BOOK NOW
7 Apr 2024
8 Apr 2024
13 Apr 2024
$938
$797 (Book by Dec 31)
$1,300
$1,105 (Book by Dec 31)
$923
$785 (Book by Dec 31)
BOOK BOOK NOW
14 Apr 2024
15 Apr 2024
20 Apr 2024
$938
$797 (Book by Dec 31)
$1,300
$1,105 (Book by Dec 31)
$923
$785 (Book by Dec 31)
BOOK BOOK NOW
21 Apr 2024
22 Apr 2024
27 Apr 2024
$938
$797 (Book by Dec 31)
$1,300
$1,105 (Book by Dec 31)
$923
$785 (Book by Dec 31)
BOOK BOOK NOW
* All prices in USD
Program Includes:
5 hotel nights in Dubai
Daily buffet breakfast.
Transfers airport-hotel-airport, with English speaking assistance.
Safari in the desert with dinner and transportation with English speaking assistance
Half day tour in Dubai with English speaking guide.
Dinner on the Dhow cruise and transfers with English speaking assistance
Half-day tour in Sharjah with English speaking guide.
Full day tour Abu Dhabi with lunch with English speaking guide.
VAT 5%
Program Does not Include:
Tourism Dirham.
Any lunch or dinner not mentioned in the program.
Extras and personal expenses.
All tips,average p.p. $25.00
PROGRAM NOTE: Daily arrivals, min 2 pax.
Extra night hotel stay available per request