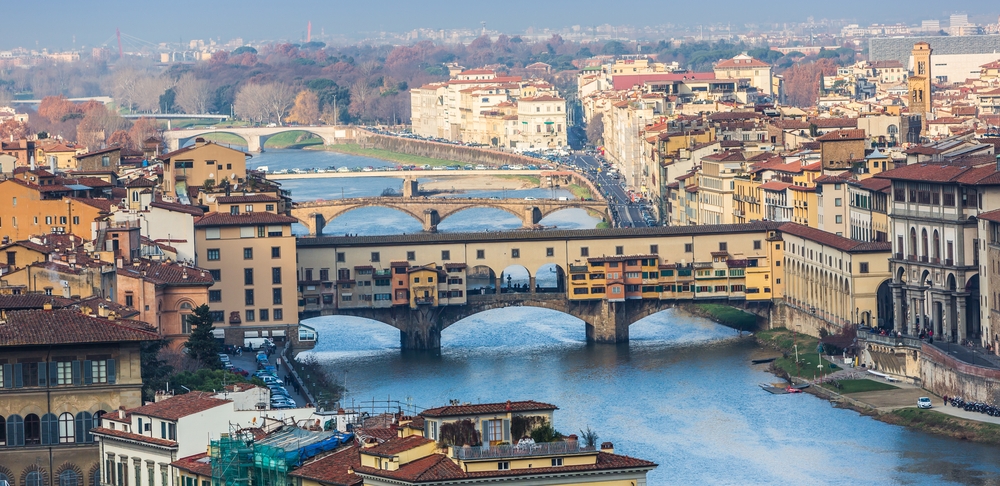 Rome, Assisi, Siena, Florence, Bologna, Padua, Venice, Tuscany Wine Region (Montepulciano), Rome, Naples, Pompeii, Sorrento, Capri & Rome
---
Day 1
Rome
Benvenuti a tutti! Welcome to Bella Roma! Upon your arrival at Rome you will be warmly greeted by an IBMT Tours representative at the airport who will direct you to your transfer vehicle for the transfer to your hotel.Spend your first marvellous day in Italy roaming and discovering in the Eternal City.
---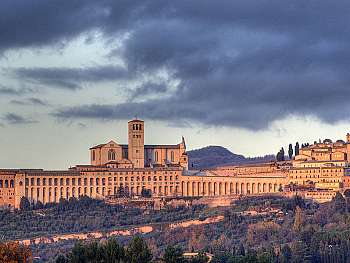 Day 2
Rome | Assisi | Siena | Florence
Departing at 7:15 am from your hotel by a deluxe coach, you will arrive in Assisi, ready to explore, at your own leisure, this tiny town surrounded by walls, built in the Middle Ages. Take your time to visit the basilica of St. Francis, where you will see masterpieces by Giotto and Cimabue and, then, have free time for lunch (not included). Board on the bus to reach Siena, a Unesco World Heritage Site, world-known for the Palio, the historical horse race around the shell-shaped town square: Piazza del Campo. Next, you will continue on to Florence, where you will check in at your hotel before enjoying dinner and a well-earned night of rest.
Meal: Breakfast, Dinner
---
Day 3
Florence
After breakfast spend the day roaming around spectacularly beautiful Florence often called the "Cradle of Renaissance" where with the help of Michelangelo, Italian art reached its zenith. With Etruscan-Roman origins, the city burgeoned in the Middle Ages as a free Commune and was further enlightened during the Age of the Renaissance. You will be truly fascinated by the uncountable monuments and churches such as Santa Maria del Fiore, commonly referred to as the Duomo. You will be impressed by its magnificent dome built by Filippo Brunelleschi. Nearby, opposite a small piazza you will see the "Campanile" tower (partially designed by Giotto) and the Baptistery with its bronze doors where Michelangelo imagined the mythical "Gates of Paradise." Visiting the inner city you will visit the "famosissima" Piazza della Signoria (also known as Palazzo Vecchio) and the Basilica of Santa Croce. Enjoy a typical Tuscan lunch in Piazza Santa Croce, then spend the afternoon wandering the cobblestoned streets of Florence unescorted. or take an Optional: Short excursion trip to Pisa. In Pisa, you will be enchanted by the Piazza redei Miracoli with the Duomo, the Baptistery and of course, Pisa's iconic Leaning Tower. A leisurely dinner at a restaurant of your choice ends the evening. Overnight stay is in Florence.
Meal: Breakfast & Lunch
---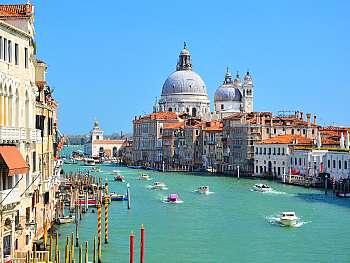 Day 4
Florence | Bologna | Padova | Venice
After breakfast depart for historic Bologna to discover the arresting elegance of the city centre with its quaint porticos and fashionable shopping streets. From Piazza Malpighi walk to Piazza del Nettuno and Piazza Maggiore in the heart of the city. View the grandeur of King Renzo's Palace, Palazzo Podestà and the beautiful Basilica of San Petronio, one of the largest in the world. Bologna is a genuine heaven for gourmets, so do not miss an exquisite meal in this esteemed gastronomic centre. In the afternoon, our tour continues to Padova and we will see Sant'Antonio Basilica, a church frequently visited by pilgrims of the Catholic world. We arrive later that afternoon in glorious Venice, the City of Love, named one of the most romantic cities in the world. As you will discover Venice is indeed one of the most visually stunning cities conceived by man. Arrive at your hotel, relax and enjoy dinner and an overnight stay.
Meal: Breakfast, Dinner
---
Day 5
Venice
After breakfast enjoy your private water-taxi transfer to Piazza San Marco with "Skip the Line" tickets to visit the splendid St. Mark's Basilica and, after this check out the most iconic places of the "Floating City": the Palazzo dei Dogi, symbol of Venice's glorious past, the legendary "Bridge of Sighs". Spend the afternoon roaming along Venice's canals at your leisure and then return to the hotel for overnight.
Meal: Breakfast
---
Day 6
Venice | Montepulciano (TUSCANY WINE REGION) | Rome
After breakfast, departure from Piazzale Roma heading to Tuscany, world-known for its landscapes, its churches and castles and its delicious wines. You will proceed to Val di Chiana with a stop in Montepulciano, a medieval town rich in history and art. Known for its "Nobile" wine, purchased in local wine houses, Montepulciano also hosts an annual Jazz and Wine Festival every July. Lunch in a typical restaurant included! After lunch, spend some free time. In the evening, you will arrive in Rome to check in into your hotel.
Meal: Breakfast & Lunch
---
Day 7
Rome
Between 7:45/8:00 AM, after breakfast departure from the hotel for ta tour of the Vatican Museums, Sistine Chapel and St. Peter's Basilica with our exclusive "Skip the Line" access! No stress to reach the area: upon arrival, your guide will lead you into the museums where you'll visit one of the most important art collections of the world. Walk along the beautiful Galleries of Tapestries and Geographical Maps before admiring Raphael's Rooms and then the amazing Sistine Chapel. After this incredible masterpiece, you will be taken by a privileged door to St. Peter's Basilica, the biggest church in the world! The tour ends in St. Peter's Square. Enjoy the rest of the day to explore the city at your own leisure or take one of our selected afternoon or evening tours! Overnight stay.
Meal: Breakfast
---
Day 8
Rome | Naples | Pompeii | Sorrento
After breakfast pick up at your hotel around 7:00 AM approximately and depart by coach heading south crossing the regions of Lazio and Campania. Arrival in Naples and short panoramic tour climbing up to Vomero hill to enjoy beautiful views over the Gulf of Naples with the Vesuvius, Capri, Ischia and Procida and the city below. Time to take some nice pictures. Descending towards the port of Mergellina you will leave the city and travel south toward Mount Vesuvius and once you reach the town of Pompeii, enjoy a real Neapolitan pizza for lunch, you will enter into one of the most important archaeological sites in the world: a UNESCO World Heritage Site, the ruins of Pompeii with "Skip the Line" entrance and a guided tour. Visit the haunting ruins of Pompeii travelling back in time to the tragic days in 79 AD when the silent Mount Vesuvius suddenly erupted covering the prosperous Roman city in deadly volcanic ash and poisonous gases leaving this prosperous city crystallized until today. You'll learn how people lived at that time, visiting houses and "bars" admiring frescoes and mosaics to imagine how rich and prosperous the city was before that dreadful day. After the visit you will drive along the Sorrentine Coast arriving in Sorrento for dinner (dress code: jacket for men) and an overnight in your hotel.
Meal: Breakfast, Lunch & Dinner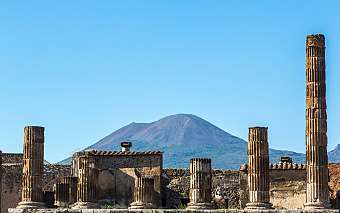 ---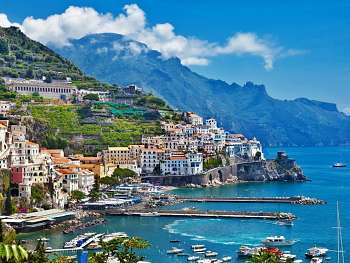 Day 9
Sorrento | Capri | Sorrento
After breakfast, get ready for an exciting excursion to the island of Capri: one of the most exclusive summer destinations of the Mediterranean! Depending on weather and sea conditions, you will admire the dreamy Blue Grotto on a small rowboat. Afterward, enjoy lunch at a local restaurant and then roam the island at your own pace. Once back on the mainland, return for dinner and your last overnight in Sorrento.
Meal: Breakfast, Lunch & Dinner
---
Day 10
Sorrento | Rome
Breakfast at your hotel. Time at your leisure going for shopping or tasting some nice Limoncello. As an option, you may go for a short excursion to the Amalfi coast (not included). In the afternoon, at around 4:00 pm, departure back to Rome.
Check in at your hotel and overnight stay.
Meal: Breakfast
---
Day 11
Rome
Breakfast at the hotel. Our tour ends with breakfast at your hotel. Arrivederci Roma! (Breakfast).
End of our service.
---
Choose your preferred dates and book your trip today
BOOK NOW
Dates & Rates
---
Departure date
Start Date
End Date
Starting At
Double Occupancy
Single Price
Child Price
Book
06 Oct 2022
07 Oct 2022
17 Oct 2022
$1,786
$2,404
$1,786
BOOKBOOK THIS TOUR
13 Oct 2022
14 Oct 2022
24 Oct 2022
$1,786
$2,404
$1,786
BOOKBOOK THIS TOUR
15 Oct 2022
16 Oct 2022
26 Oct 2022
$1,786
$2,404
$1,786
BOOKBOOK THIS TOUR
20 Oct 2022
21 Oct 2022
31 Oct 2022
$1,786
$2,404
$1,786
BOOKBOOK THIS TOUR
22 Oct 2022
23 Oct 2022
02 Nov 2022
$1,786
$2,404
$1,786
BOOKBOOK THIS TOUR
* All prices in USD
Inclusions
---
Included Services:
Transportation by deluxe motor-coach
Monolingual english speaking tour-escort
Accommodation based on double occupancy
10 breakfasts, 4 lunches, 4 dinners
Entrance to the St. Mark's Basilica in Venice with "skip the line"
Entrance ticket to Vatican Museums, Sistine Chapel & St. Peter's Basilica with "skip the line
Entrance to the archaeological site in Pompeii with "skip the line"
Visit of the Blue Grotto in Capri
Visits with local expert guide as per itinerary (Rome, Florence, Venice, Sorrento, Capri)
Visit also Assisi, Bologna, Siena, Padova, Tuscany wine Region
Services not Included:
Airfare and departure taxes
Porterage service
Transfer from airport / hotel
Drinks
Travel insurance
Tips to guide and driver
Entrance fees to monuments or museums when not mentioned
City tax for overnight stays (according to each city council rules) shall be paid directly to the hotel

HOTEL
Florence Raffaello 4*
Venice Delfino (Mestre) 4*
Rome St. Martin 4*
Sorrento Michelangelo 4*
Only with IBMT Tours
Traditional tuscan lunch in Montepulciano!
Visit also Assisi, Siena, Bologna, Padua, Tuscany Wine Region
Visit St. Mark's Basilica with "Skip the Line"
Tour of Vatican Museums, Sistine Chapel and St. Peter's Basilica (with our exclusive "Skip the Line")
Discover the Jewels of Southern Italy!

Important Notes
All prices are per person in USD funds
City tax not included: to be paid directly at the hotel
Drinks not included in meals (except in Pompeii included)