---
Day 1
ATHENS
Upon arrival, you will be welcomed and transferred to your hotel. Balance of day at leisure.
---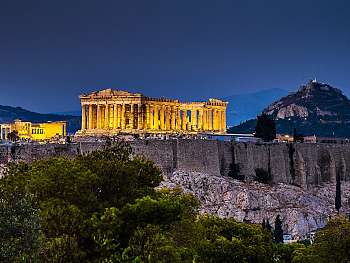 Day 2
ATHENS
Morning sightseeing tour of Athens including all famous monuments: the Panathenaic Stadium, the ex. Royal Palace, the Temple of Olympian Zeus, the Hadrian's Arch, the Parliament, the Tomb of the Unknown Soldier, the Academy, the University, the National Library and the Constitution Square (Syntagma). Tour ends with visit at the Acropolis and the New Acropolis Museum. Balance of the day at leisure.. Remaining of the day at leisure. Meal : Breakfast
---
Day 3
POROS | HYDRA | AEGINA
Morning transfer to the port and embarkation on your full day cruise to the islands of Poros, Hydra and Aegina.
Enjoy lunch served on board and the Greek music and dancing in the boat's main lounge, while sailing between the islands.
Meals: Breakfast, Lunch
---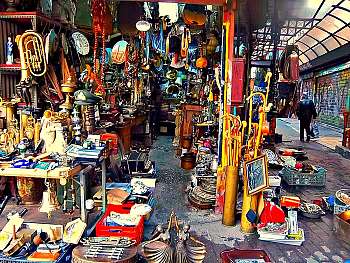 Day 4
ATHENS
Day at leisure in the vibrant city of Athens for personal activities, shopping or an optional tour. Meals: Breakfast.
---
Day 5
ATHENS / AIRPORT
According to your flight departure time, you will be transferred to Athens airport.
Meal: Breakfast
---
Choose your preferred dates and book your trip today
BOOK NOW
Dates & Rates
---
Departure date
Start Date
End Date
Starting At
Double Occupancy
Single Price
Child Price
Book
30 Nov 2023
1 Dec 2023
5 Dec 2023
$858
$729 (Book by Dec 5)
$1,323
$1,125 (Book by Dec 5)
$727
$618 (Book by Dec 5)
BOOK BOOK NOW
7 Dec 2023
8 Dec 2023
12 Dec 2023
$858
$729 (Book by Dec 5)
$1,323
$1,125 (Book by Dec 5)
$727
$618 (Book by Dec 5)
BOOK BOOK NOW
14 Dec 2023
15 Dec 2023
19 Dec 2023
$858
$729 (Book by Dec 5)
$1,323
$1,125 (Book by Dec 5)
$727
$618 (Book by Dec 5)
BOOK BOOK NOW
21 Dec 2023
22 Dec 2023
26 Dec 2023
$858
$729 (Book by Dec 5)
$1,323
$1,125 (Book by Dec 5)
$727
$618 (Book by Dec 5)
BOOK BOOK NOW
28 Dec 2023
29 Dec 2023
2 Jan 2024
$858
$729 (Book by Dec 5)
$1,323
$1,125 (Book by Dec 5)
$727
$618 (Book by Dec 5)
BOOK BOOK NOW
4 Jan 2024
5 Jan 2024
9 Jan 2024
$858
$729 (Book by Dec 5)
$1,323
$1,125 (Book by Dec 5)
$727
$618 (Book by Dec 5)
BOOK BOOK NOW
11 Jan 2024
12 Jan 2024
16 Jan 2024
$858
$729 (Book by Dec 5)
$1,323
$1,125 (Book by Dec 5)
$727
$618 (Book by Dec 5)
BOOK BOOK NOW
18 Jan 2024
19 Jan 2024
23 Jan 2024
$858
$729 (Book by Dec 5)
$1,323
$1,125 (Book by Dec 5)
$727
$618 (Book by Dec 5)
BOOK BOOK NOW
25 Jan 2024
26 Jan 2024
30 Jan 2024
$858
$729 (Book by Dec 5)
$1,323
$1,125 (Book by Dec 5)
$727
$618 (Book by Dec 5)
BOOK BOOK NOW
1 Feb 2024
2 Feb 2024
6 Feb 2024
$858
$729 (Book by Dec 5)
$1,323
$1,125 (Book by Dec 5)
$727
$618 (Book by Dec 5)
BOOK BOOK NOW
8 Feb 2024
9 Feb 2024
13 Feb 2024
$858
$729 (Book by Dec 5)
$1,323
$1,125 (Book by Dec 5)
$727
$618 (Book by Dec 5)
BOOK BOOK NOW
15 Feb 2024
16 Feb 2024
20 Feb 2024
$858
$729 (Book by Dec 5)
$1,323
$1,125 (Book by Dec 5)
$727
$618 (Book by Dec 5)
BOOK BOOK NOW
22 Feb 2024
23 Feb 2024
27 Feb 2024
$858
$729 (Book by Dec 5)
$1,323
$1,125 (Book by Dec 5)
$727
$618 (Book by Dec 5)
BOOK BOOK NOW
29 Feb 2024
1 Mar 2024
5 Mar 2024
$858
$729 (Book by Dec 5)
$1,323
$1,125 (Book by Dec 5)
$727
$618 (Book by Dec 5)
BOOK BOOK NOW
7 Mar 2024
8 Mar 2024
12 Mar 2024
$858
$729 (Book by Dec 5)
$1,323
$1,125 (Book by Dec 5)
$727
$618 (Book by Dec 5)
BOOK BOOK NOW
14 Mar 2024
15 Mar 2024
19 Mar 2024
$858
$729 (Book by Dec 5)
$1,323
$1,125 (Book by Dec 5)
$727
$618 (Book by Dec 5)
BOOK BOOK NOW
21 Mar 2024
22 Mar 2024
26 Mar 2024
$858
$729 (Book by Dec 5)
$1,323
$1,125 (Book by Dec 5)
$727
$618 (Book by Dec 5)
BOOK BOOK NOW
28 Mar 2024
29 Mar 2024
2 Apr 2024
$858
$729 (Book by Dec 5)
$1,323
$1,125 (Book by Dec 5)
$727
$618 (Book by Dec 5)
BOOK BOOK NOW
* All prices in USD
The Package Includes:
✓ 4 nights' accommodation in Athens
✓ Daily breakfast
✓ Half day Athens sightseeing tour including the New Acropolis Museum
✓ Full day cruise Poros-Hydra-Aegina with lunch on board
✓ All transfers as mentioned
✓ Entrance fees to archaeological sites

HOTELS
ATHENS
4* Athens Zafolia or similar
5* Royal Olympic or similar
*Subject to change to similar hotels due to availability
** The above itinerary departs daily