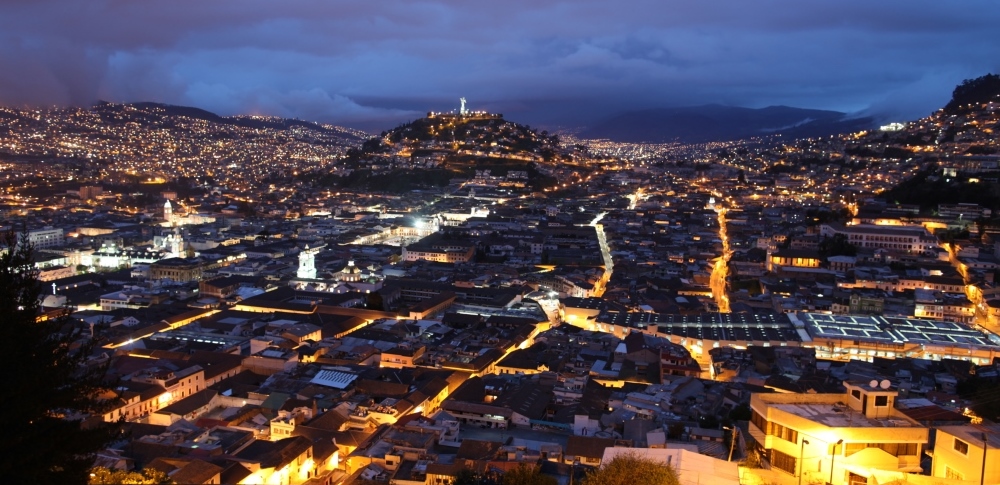 9 Days tour to - Quito, Otavalo, Cotacachi, Cuicocha, Avenue of the Volcanoes, Alausi & Guayaquil
---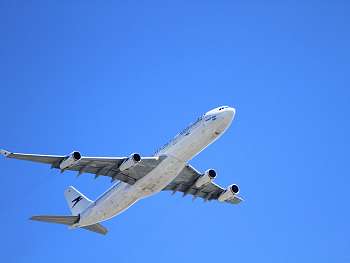 Day 1 - Monday
Arrival to Quito
Welcome to Quito you will be met by IBMT Tours representative and transfer to your hotel. Overnight in Quito
---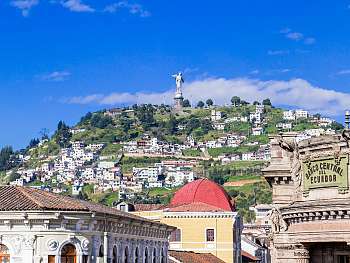 Day 2 - Tuesday
Quito | Otavalo | Cotacachi & Cuicocha
After breakfast Departure from our designated hotels in Quito through the Pan-American North Highway until arriving to Cayambe, where the passengers will have the opportunity to taste the delicious "Bizcochos de Cayambe", a type of cracker or bread baked in a clay oven (greatly paired with local cheese or caramel sauce). After admiring Lake San Pablo, we will arrive at the Otavalo Market, the largest in America, where the indigenous people of the area, known as "Otavalos", one of Ecuador's most recognized ethnic groups, make and sell their textiles and handicrafts.
Passengers may choose between to stay in this area and enjoy more time from the market and our bus will pick them up at the end of the tour (they will not have the visit to Cotacachi and Cuicocha), or continue with the journey to the town of Cotacachi, recognized for leather clothing and crafts. On the way to Cotacachi, we will visit an andean instrument workshop "Ñanda Mañachi" located in the area of Peguche, to spend some special moments with the local people and understand the Andean culture. In Cotacachi you have enough time to visit the village, the shops of leather goods and free time for lunch, (not included).
*Bus will wait for 10 minutes in Otavalo to pick up passangers that stayed there, and after that will return to Quito and their respective hotels or starting point.(Breakfast).
---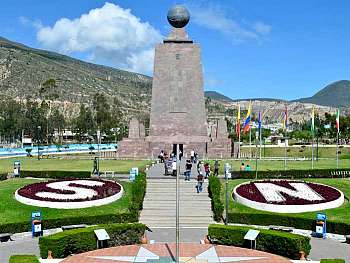 Day 3 - Wednesday
Quito | Authentic Middle of the world tour
Breakfast. We will visit the historic center, the largest and best preserved in South America, in one of our original trolleys, which are a replica of the trams that circulated in Quito in the last century.
Visit to the Basilica del Voto Nacional Church, where we will make a brief stop for an explanation of its facade, to later move towards the Panecillo viewpoint, an iconic place in the city, renowned for its beauty, and where is a giant statue of the "Winged Virgin", where you can admire a beautiful landscape of colonial and modern Quito. Later we will continue to the Plaza de San Francisco, one of the representative places of the city and full of history, from where we will walk to the Plaza Grande, historical and political center of the city, surrounded by innumerable attractions including: the Cathedral, the Palace of Government, the Archbishop's Palace and the La Compañía church.
We continue our tour meeting the traditional La Ronda neighborhood, in whose romantic setting we can find workshops where our visitors will learn with a group of authentic artisans, how their works are elaborated, and trades of yesteryear that keep alive the cultural traditions of this charming city, in this emblematic street you will have the opportunity to visit an ice cream shop where you can find very traditional flavors of Ecuador, as well as a visit to one of the artisan workshops: panamá hats or joinery or tinwork or products made from honey bee. (Entrance to churches are not included).
We will stop at the "Zona Rosa" of the city, approximately an hour and a half to have free time for lunch (not included), and later we continue with our excursion "Authentic Middle of the World Tour".
We go to the "Middle of the World City", where you can see the monument that divides the northern hemisphere from the southern hemisphere of the planet. It was built during the XVII century when a French Expedition defined the precise location of the equatorial line that divides the world and it is a must-see place for those who visit Quito. Includes entrance to the Middle of the World complex ,where you can live experiences that defy the laws of physics and occur only in this part of the world. After visiting this privileged place and registering it in your passport, you will always see Ecuador and the Middle of the World in a different way.(Breakfast).

---
Day 4 - Thursday
Excursion through the Avenue of the Volcanoes.
Breakfast. Departure from Quito through the "Avenue of the Volcanoes" admiring the beautiful Andean landscape this is a great opportunity to take pictures, brief stop at the Cotopaxi National Park (entrance is not included), arrival to Riobamba and accommodation in a typical hacienda of the region. *If it is not operating the Cotopaxi National Park due to volcanic activity, you will visit the Quilotoa volcano and the unique turquoise lagoon situated in his crater. * Does not include access to the Cotopaxi National Park.(Breakfast).
---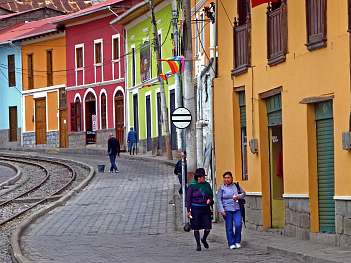 Day 5 - Friday
Alausi | Devil's Nose | Guayaquil
After breakfast departure to the train station located in Alausí. From her we´ll enjoy a train ride towards the famous "Devil's Nose", a magnificent work incrusted in the Andes, (train ride takes approx. 2 hours). After the train, depart to Guayaquil. On the way you will have special landscape with the cacao, banana and wood plantation and teak wood; we will pass by the Huigra town, El Triunfo, Fatima Virgen and Durán. You will arrive to Guayaquil for your overnight.(Breakfast).
* Train Operation is subject to change.
---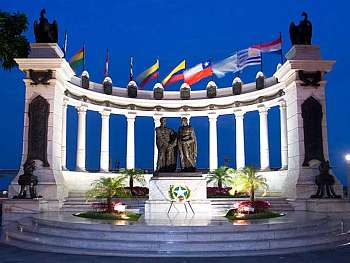 Day 6 - Saturday
Guayaquil
Breakfast. Traveling along the main streets and avenues of the city we will visit the Seminario Park, The Guayaquil embankment, La Rotonda; the colonial neighborhood of Las Peñas,
where we can admire the magnificent wood architecture. From here we can take a panoramic view of Guayaquil and the Guayas River.(Breakfast).

---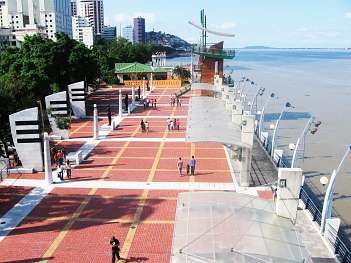 Day 7 - Sunday
Guayaquil Airport
Enjoy your breakfast at the hotel and depending on your flight schedule take a free day sightseeing on your own before transferring to the airport for your departure back home.(Breakfast).
End of our service.
---
Choose your preferred dates and book your trip today
BOOK NOW
Dates & Rates
---
Departure date
Start Date
End Date
Starting At
Double Price
Single Price
Child Price
Book
17 Aug 2020
17 Aug 2020
23 Aug 2020
$1351
$1956
$833
Not available
31 Aug 2020
31 Aug 2020
06 Sep 2020
$1351
$1956
$833
Not available
14 Sep 2020
14 Sep 2020
20 Sep 2020
$1351
$1956
$833
Not available
28 Sep 2020
28 Sep 2020
04 Oct 2020
$1351
$1956
$833
Not available
12 Oct 2020
12 Oct 2020
18 Oct 2020
$1351
$1956
$833
Not available
26 Oct 2020
26 Oct 2020
01 Nov 2020
$1351
$1956
$833
Not available
09 Nov 2020
09 Nov 2020
15 Nov 2020
$1351
$1956
$833
Not available
23 Nov 2020
23 Nov 2020
29 Nov 2020
$1351
$1956
$833
Not available
07 Dec 2020
07 Dec 2020
13 Dec 2020
$1351
$1956
$833
BOOKBOOK THIS TOUR
21 Dec 2020
21 Dec 2020
27 Dec 2020
$1351
$1956
$833
BOOKBOOK THIS TOUR
* All prices in USD
Inclusions
---
Included:
Transfer airport / hotel
3 nights' accommodation in Quito
The Original Quito City Tour in Trolley + Authentic Middle of the World Tour
Otavalo Indigenous Market, Cotacachi & Cuicocha Tour
Excursion by the "Avenue of the Volcanoes" with a brief visit to the Cotopaxi National Park.
1 night lodging at Riobamba (First class****)
Excursion by train Alausi - Sibambe, passing through the "Devil's Nose". We will continue to Guayaquil
2 nights lodging in Guayaquil
City tour in Guayaquil
Transfer hotel / airport in Guayaquil
Breakfasts
Hotel taxes

Not Included:
In Quito and Guayaquil, Municipal tax of US$ 2,00 per room per night is not included.
International flights
Travel tips
Travel insurance
Any other expenses not previously specified
Hotels:

First Superior: HILTON COLON HOTEL / ANDALUZA / SHERATON HOTEL
LUXURY: SWISSOTEL HOTEL / ANDALUZA / WYNDHAM
*Rates do not apply for Holidays.