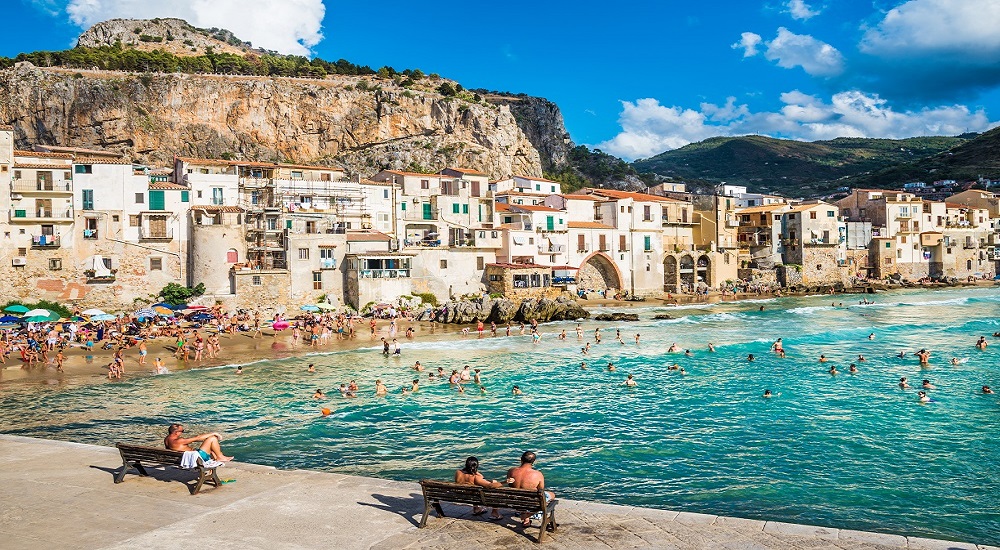 8 Days tour to - Taormina, Grotta Azzurra, Calabria, Agrigento, Piazza Armerina, Etna, Catania,
Ortygia Island, Syracuse, Lipari, Vulcano, Palermo & Cefalu
---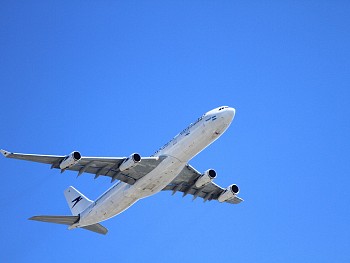 DAY 1 - SATURDAY
ARRIVAL
Arrive at Catania Airport. After having collected your luggage, optional transfer to the hotel On this day there are no planned activities, the rooms will be ready after 14:00 and enjoy the city. At the hotel reception you will find information . Dinner for the clients in hotels 3* and 4*standard and only breakfast for the clients in hotel 4* Superior : Overnight.
---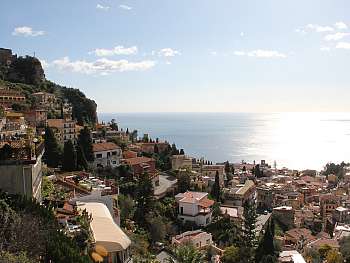 DAY 2 - SUNDAY
UNDISCOVERED SICILY : VISIT CASTIGLIONE DI SICILIA & ALKANTARA GORGES WITH TASTING
Breakfast in the hotel. This day you are free to relax and explore the city or go for a swim on the beach on your own or opt to join our half day
excursion Undiscovered Sicily .Departure to Castiglione di Sicilia, a small medieval town also known as the "wine city", where we you can admire Its legendary castle, rich palaces and churches. "Cannizzu" - a lookout tower split in two after being hit by lightning - is really impressive. Santa Domenica's Church is also worth a visit; it is a rare, valuable example of Byzantine domed building of the seventh century. Then we discover Francavilla di Sicilia, a stunning town in the Alcantara valley, where a violent battle occurred between the Spaniards and Austrians in the 16th Century. Here we will also visit the Capucin Monastery (entrance fee not included), founded in the 16th Century. After having tasted some local food and wine, we then head to the Alcantara Gorges (Gole dell'Alcantara). The water in the river is always cool, it attracts hundreds wishing to take a refreshing dip on hot summer days. To get down into the gorge you can either take the stairs or there is an elevator (entrance fee not included) that will whisk you down the 50 meters to the river. The small beach area is great for getting your feet wet, sunbathing, or if you desire to jump in there are areas you can dive in. Reboard the coach at 15:30 and head back to the hotel. BB or HB and Overnight.
---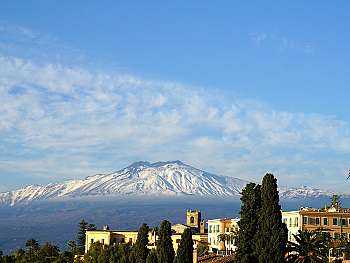 DAY 3 - MONDAY
ETNA &TAORMINA INCLUDED
Breakfast in the hotel and departure to the Mt. Etna, the highest peak of Sicily and the most active volcano in Europe. The territory surrounding the volcano constitutes the "Park of Etna", one of the largest protected areas in Italy: You will be astonished about the great variety of vegetation and landscapes that we will meet along the way before arriving at the "Silvesti Craters" (about 1.900 mt}. From here on you will have the option to continue the excursion by jeep and cableway (extra cost } After having tasted some local Honey and Sicilian speciality,, departure to Taormina. As you walk and discover the amazing town of Taormina, hear tales about the history and the evolution of Sicilian culture. Discover the importance of fresh and flavourful ingredients to Sicilian cuisine, and hear how the cuisine's popularity has spread across the globe. Pass by beautiful old buildings, including the 15th-century Palazzo Corvaja and an ancient Greek Roman theatre the 2nd largest classical theatre in Sicily (Admission fee is not included}. Discover the medieval area of the town with its narrow streets and shops.
---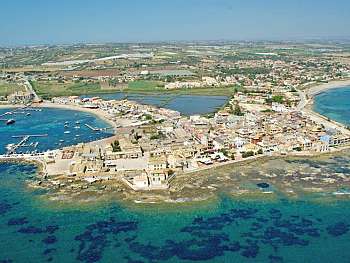 DAY 4 - TUESDAY
CATANIA & SIRACUSA INCLUDED
Breakfast in the hotel and departure to Catania by Bus for a walking tour through the streets into Catania's UNESCO-listed historical center with its Baroque palazzi and amazing monuments. Before hopping on the bus, visit of the open-air fish market, famous for its particular colours. Continuation to Syracuse, one of the most interesting archaeological sites of the island with its Archeological Park , the Roman Amphitheatre, the Greek Theatre, the Ear of Dionysus, the Cave of the Cordari, Island of Ortigia, the most ancient nucleus of the city with its stunning cathedral. Entrance fees are not included Re-entry in hotel
---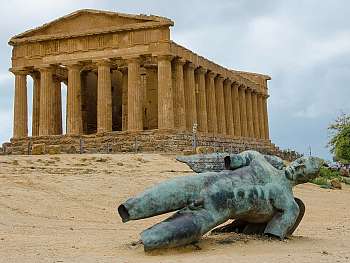 DAY 5- WEDNESDAY
PIAZZA ARMERINA & AGRIGENTO
Breakfast Meeting with Tour escort and departure to Agrigento . Stop in Piazza Armerina where you will have a short break for tasting some typical Sicilian food, You will visit the Villa Romana del Casale, famous for the most beautiful collection of late-Roman mosaics. On to Agrigento where you will visit the Temples' Valley, including the Temple of Juno, the Temple of Concorde (one of the best preserved Doric temples in the whole Greek world}, the Temple of Hercules , the Temple of Castor and Pollux. Entrance fees are not included . Come back to Taormina's hotel and overnight
---
DAY 6- THURSDAY
GROTTA AZZURRA 2hrs INCLUDED (Optional: WALKING FOOD EXPERIENCE IN TAORMINA)
Half board in Hotel. In the afternoon Excursion by boat GROTTA AZZURRA. On this tour you will discover the natural beauty of the coastline Giardini/Naxos - Taormina. The meeting will be at the port of Giardini Naxos. There you will start the tour in a comfortable characteristic boat (max. 12 persons}, to explore the Ionian Coast. From here you'll have a fantastic view of mount Etna and its area's most breathtaking sights. On the way you can discover caves ,including the visit of the well known "Grotta Azzurra" (due to weather conditions and currents}, rock formations and the beautiful Nature Reserve of Isola Bella. Dinner.
Optional:WALKING FOOD EXPERIENCE IN TAORMINA € 59,00 p.p
Local people will offer food and wine experiences and we do not offer tourist guides but relationships with people .
Sicily is included among the ten selected regions in terms of tourist attractiveness and food and wine culture
We will begin our "Walking Food Experience" through the narrow streets of the charming Taormina. and the guests "hop" from one taste sensation to the next on a leisurely walk with our local food person . Sicilian street food is different from province to province, and here in the province of Messina you will have the opportunity to taste some specialties that you don't find in other places. We will start with the first Sicilian speciality such as the "Focaccia" o "Cartucciata" or "Scacciata" : What is this ? a kind of pizza that is thicker than the Neapolitan pizza; it is seasoned with Sicilian cheese, tomatoes and a nice vegetable, the curly endive, with a slightly sour taste. Are you ready for the second Sicilian speciality? the "Arancino". You can find it everywhere in Sicily, but in the eastern coast the shape is different: it is not a perfect "ball" but it has a peak as ETNA and therefore it is also easier to bite... The taste is really an experience not to miss: the "arancino" is a ball of fried rice, filled with different ingredients; the basic filling can be ragout or mozzarella cheese + ham, but it is not difficult to find the version with mushrooms, spinaches and so on. After eating you'll . for sure, be thirsty and we'll let you trying a Chinotto , a soft drink flavoured with sour oranges Than we'll continue to walk for having a nice dessert in a bakery to taste a typical Sicilian cake as Cannolo or another type of sicilian cake Our food experience must end - of course - with a refreshing sweet and in the province of Messina what it is better than a Granita ? Nothing else. especially in the warm days, cause it is a crushed-ice drink. The flavours are countless: the traditional ones are coffee -, lemon- or - almonds-taste ; Before ending our walking tour it Is still time to drink a good Espresso ! The food walking tour is finished and i hope that you enjoyed the meals Let us know when you book if you have any food allergies or restrictions. Places visited during your tour are subject to change. Meeting is at Porta Messina one of the door of Taormina center
This program includes 6 stops through the characteristic streets of the stunning Taormina:
Reduction for children 0-4 years free of charge, 5-17 years € 45,00 per person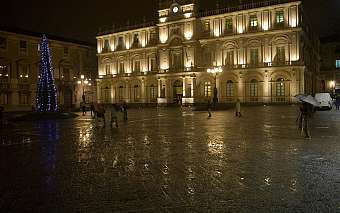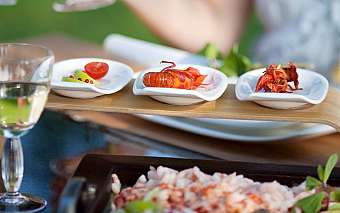 ---
DAY 7 - FRIDAY
HIGHLIGHTS PALERMO & MONREALE Optional tour
Optional tour: € 78 p.p
Breakfast in the hotel. Early morning departure to Palermo and visit of Palermo, the Royal Palace and Cathedral .Enjoy a walking tour of Sicily's capital, teeming with impressive art and ruins, Byzantine buildings and Baroque churches. You will also visit Piazza Pretoria, The Martorana Church (from outside}, "I Quattro canti", Via Maqueda, Politeama Theatre (from outside}. Continue to Teatro Massimo (from outside}, the opera house. Stop for eating an Arancina ,sicilian speciality ! Continue to Monreale, a lovely town on the slopes of Monte Caputo overlooking Palermo. Monreale was named for the once numerous citrus orchards that dotted the fertile La Conca d'Oro valley below. Walk with your guide to Monreale Cathedral, considered one of the finest Norman constructions in the world. Entrance fees not . Come back to Taormina's hotel and overnight.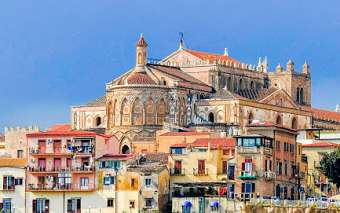 ---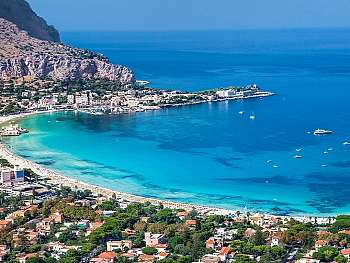 DAY 8 - SATURDAY
DEPARTURE and "ARRIVEDERCI"
Breakfast in the hotel. Check out at 10:00 ; Optional transfer to Catania airport Grazie e arrivederci!
---
Choose your preferred dates and book your trip today
BOOK NOW
Dates & Rates
---
Departure date
Start Date
End Date
Starting At
Double Occupancy
Single Price
Child Price
Book
17 Sep 2021
18 Sep 2021
25 Sep 2021
$1,210
$1,652
$1,022
BOOKBOOK THIS TOUR
24 Sep 2021
25 Sep 2021
02 Oct 2021
$1,210
$1,652
$1,022
BOOKBOOK THIS TOUR
01 Oct 2021
02 Oct 2021
09 Oct 2021
$1,210
$1,652
$1,022
BOOKBOOK THIS TOUR
08 Oct 2021
09 Oct 2021
16 Oct 2021
$1,127
$1,569
$951
BOOKBOOK THIS TOUR
15 Oct 2021
16 Oct 2021
23 Oct 2021
$1,085
$1,527
$920
BOOKBOOK THIS TOUR
* All prices in USD
Inclusions
---
Tour includes:
The rates are per person in double room and includes.

7 Overnights in standard rooms
7 HB in hotels 4* STANDARD.
7 breakfast in hotel 4* SUPERIOR.
Individual/group transfers from/to Catania Airport
Coach G.T for each excursion
multilingual tour guide speaking German, English, or Italian
tasting Sicilian products were indicated.
THE RATE DOES NOT INCLUDE:
City taxes
All the drinks at meals
Porterage's and personal expenses
Tips to the guide and driver (optional}
Optional excursions
Entrance fees to monuments and archaeological sites
Everything is not mentioned in "the rate includes".
TRANSFERS from Catania airport to hotel:
group transfer euro 50 for r/t per person
group transfer euro 30 one way per person
private transfer euro 95 per car per way;
ADMISSION FEES
The reservation of entrance tickets is obligatory to book in advance and are non-refundable The price of the fee could be change in case of exhibitions /representations
Please note that some trips could be a combination of multiple IBMT Tours . You should expect some group members to join or leave the tour between tour segments.