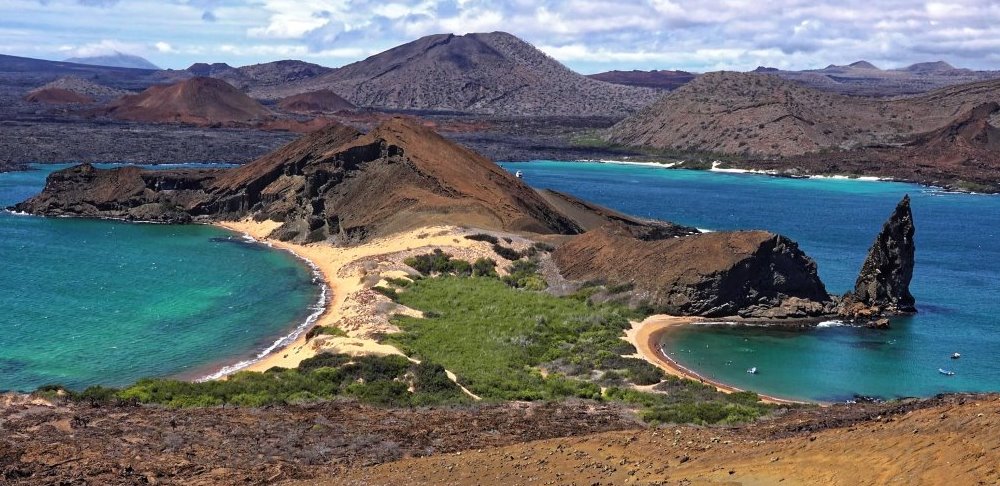 11 Days tour to - Quito, Otavalo, Cotacachi, Equatorial Monument, Cotopaxi National Park, Riobamba City, Alausi, Cuenca, Cajas National Park, Guayaquil, Santa Cruz, Puerto Ayora & Galapagos Island
---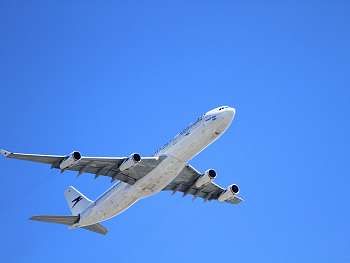 Day 1 - Monday
Arrival to Quito
Welcome to Quito you will be met by IBMT Tours representative and transfer to your hotel. Overnight in Quito.
---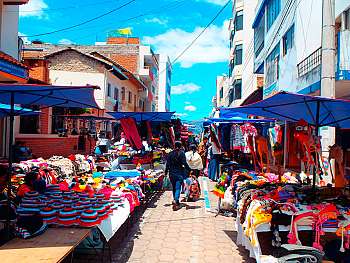 Day 2 - Tuesday
Quito | Otavalo | Cotacachi
After breakfast departure from our designated hotels in Quito through the Pan-American North Highway until arriving to Cayambe, where the passengers will have the opportunity to taste the delicious "Bizcochos de Cayambe", a type of cracker or bread baked in a clay oven (greatly paired with local cheese or caramel sauce). After admiring Lake San Pablo, we will arrive at the Otavalo Market, the largest in America, where the indigenous people of the area, known as "Otavalos", one of Ecuador's most recognized ethnic groups, make and sell their textiles and handicrafts.
Passengers may choose between to stay in this area and enjoy more time from the market and our bus will pick them up at the end of the tour (they will not have the visit to Cotacachi and Cuicocha), or continue with the journey to the town of Cotacachi, recognized for leather clothing and crafts. On the way to Cotacachi, we will visit an andean instrument workshop "Ñanda Mañachi" located in the area of Peguche, to spend some special moments with the local people and understand the Andean culture.
In Cotacachi you have enough time to visit the village, the shops of leather goods and free time for lunch, (not included).
Later we will visit the Ecological Reserve where the Cuicocha lagoon is located, inside the crater of the Cotacachi Volcano, which originated after a volcanic explosion thousands of years ago. And if the weather permits it will be possible to make a walk by the lagoon, that is to say sailing in the crater of the volcano in small boats (with additional cost).
** Bus will wait for 10 minutes in Otavalo to pick up passangers that stayed there, and after that will return to Quito and their respective hotels or starting point.(Breakfast).

---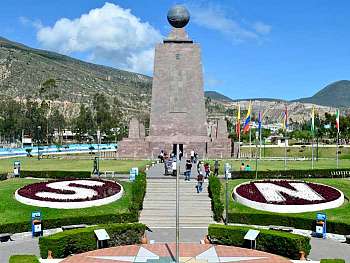 Day 3 - Wednesday
Quito city tour | Equatorial Monument
After breakfast we will visit the historic center, the largest and best preserved in South America, in one of our original trolleys, which are a replica of the trams that circulated in Quito in the last century.
Visit to the Basilica del Voto Nacional Church, where we will make a brief stop for an explanation of its facade, to later move towards the Panecillo viewpoint, an iconic place in the city, renowned for its beauty, and where is a giant statue of the "Winged Virgin", where you can admire a beautiful landscape of colonial and modern Quito. Later we will continue to the Plaza de San Francisco, one of the representative places of the city and full of history, from where we will walk to the Plaza Grande, historical and political center of the city, surrounded by innumerable attractions including: the Cathedral, the Palace of Government, the Archbishop's Palace and the La Compañía church.
We continue our tour meeting the traditional La Ronda neighborhood, in whose romantic setting we can find workshops where our visitors will learn with a group of authentic artisans, how their works are elaborated, and trades of yesteryear that keep alive the cultural traditions of this charming city, in this emblematic street you will have the opportunity to visit an ice cream shop where you can find very traditional flavors of Ecuador, as well as a visit to one of the artisan workshops: panamá hats or joinery or tinwork or products made from honey bee. (Entrance to churches are not included).
We will stop at the "Zona Rosa" of the city, approximately an hour and a half to have free time for lunch (not included), and later we continue with our excursion "Authentic Middle of the World Tour".
We go to the "Middle of the World City", where you can see the monument that divides the northern hemisphere from the southern hemisphere of the planet. It was built during the XVII century when a French Expedition defined the precise location of the equatorial line that divides the world and it is a must-see place for those who visit Quito. Includes entrance to the Middle of the World complex ,where you can live experiences that defy the laws of physics and occur only in this part of the world. After visiting this privileged place and registering it in your passport, you will always see Ecuador and the Middle of the World in a different way.(Breakfast).

---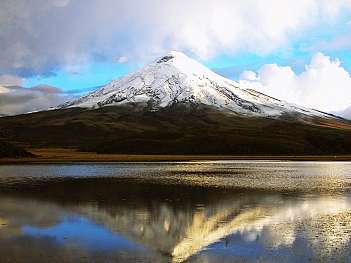 Day 4 - Thursday
Cotopaxi National Park | Riobamba city
Breakfast in hotel. Depart from Quito where you enjoy the journey to the highlands of Ecuador admiring the beautiful view, ideal for taking pictures, brief stop Cotopaxi National Park (entrance not included), arrival at Riobamba city, and accommodation in a typical hacienda. *If it is not operating the Cotopaxi National Park due to volcanic activity, you will visit the Quilotoa volcano and the unique turquoise lagoon situated in his crater. * Does not include access to the Cotopaxi National Park.(Breakfast).
---
Day 5 - Friday
Alausi | Devils Nose | Cuenca
After breakfast departure to the train station located in Alausí. From her we´ll enjoy a train ride towards the famous "Devil's Nose", a magnificent work incrusted in the Andes, (train ride takes approx. 2 hours). Continue to Cuenca visiting the Inca ruins in Ingapirca (does not include entrance), arrival and accommodation in Cuenca.(Breakfast).
* Operation of the train is subject to modifications with our previous notice.
---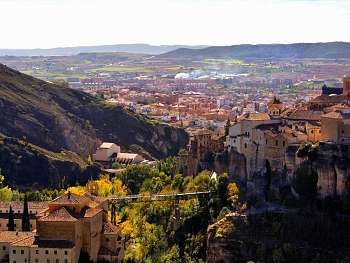 Day 6 - Saturday
Cuenca city
Breakfast at hotel before a city tour around Cuenca. We will travel through the city visiting the Calderon Park, the New and the Old Cathedral, the Flower Market, Modern Arts Museum. We continue the tour to the Homero Ortega Panama Hat factory to observe the complete process of manufacturing. We will also observe the "broken bridge" and finally visit the tourist balcony of "Turi" where we can see a panoramic view of the whole city of Cuenca. Overnight in Cuenca.(Breakfast).
---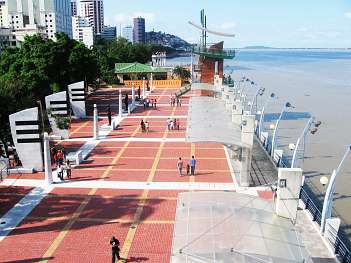 Day 7 - Sunday
Cuenca | Cajas National Park / Guayaquil
Breakfast. We leave from Cuenca to "Cajas National Park" known for its glacial lakes and high mountain vegetation. Here we will walk through this beautiful place to see some of the lakes and primary forest. We will also visit "3 Cruses" which forms the continental water division. We will walk to observe this curious place. From this point we will begin a dramatic decline to reach the coast of Ecuador. Starting we will begin observing the Andean mountain scenery and then ending up seeing totally different vegetation of the Ecuadorian Coast with large plantations of bananas and cocoa beans. Arrive to Guayaquil. Accommodation.(Breakfast).
---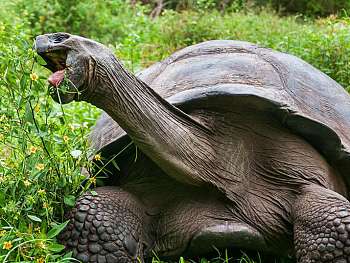 Day 8 - Monday
Galapagos - Santa Cruz | Puerto Ayora | Scientific Charles Darwin Station
Breakfast at Hotel before your transfer to the airport for your flight to Galapagos. Welcome at the Baltra airport and transfer by public buses to the tip of the Itabaca canal, where you will proceed by a public ferry service in the Island of Santa Cruz. Transport will be waiting in order to transfer you to Puerto Ayora, area where the hotels are located on the Island. On the way, you will have the opportunity to visit the lava tunnels and a Turtle reserve. Visit to the Scientific Charles Darwin Station, where you can learn more about the Galápagos Islands; the species that live in this enchanted place, its origin, the theory of Evolution, the conservation programs, and observe some Giant Turtles in captivity. (Transfer operates daily at 1pm). Accommodation.
**It will be possible to operate transfers without visits and without guide at the following times: 10am and 3pm**.(Breakfast).

---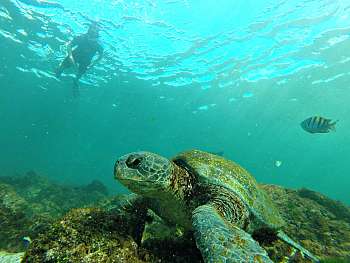 Day 9 - Tuesday
Galapagos Island
Breakfast at Hotel. Excursion in yacht to one of the following Islands: Bartolomé & Bahía Sullivan, Seymour & Bachas, Plazas & Punta Carrión, Santa Fe or similar ones. Lunch included and return to Puerto Ayora to accommodation.(Breakfast & Lunch).
*Tour Operations in Galápagos, may change due to climate conditions, operations, and logistics and are also subject to availability and itinerary changes. We Guarantees the number of excursions and visits to be met, but does not guarantee the itinerary or specific place to visit.
---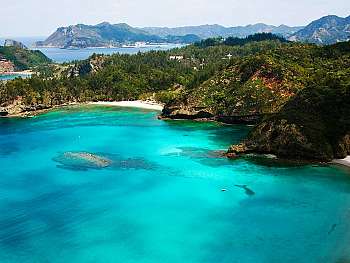 Day 10 - Wednesday
Tortuga Bay Beach | Puerto Ayora
Breakfast at Hotel. In the morning excursion to Tortuga Bay Beach, after 40minute walk (approx.) we will arrive to this magic place, one of the most beautiful beaches in the Galapagos, with white sand and green mangroves. "Playa mansa" is where we can swim and enjoy of the beach. Free time for lunch (not included). In the afternoon, tour around the bay on board a yacht, starting with a visit to "La Lobería", named because of the presence of sea lions. Here you will be able to swim or snorkel. Then we proceed with our tour to the "Canal del Amor", a marvelous site where nature gives us an unforgettable view; at the end of this channel, just a few meters forward, a viewpoint where we can observe reef sharks; from here we continue with a short walk to see the marine iguanas that inhabit in "Playa de los Perros". Punta Estrada will also be visited. Return to Puerto Ayora. *Note: shipping used in this excursion is a boat engine with capacity for 16 people. (Breakfast).
---
Day 11 - Thursday
Canal of Itabaca | Baltra Island
Breakfast at Hotel. We will pick you up at your hotel to go to the canal of Itabaca, where a ferry will take you to Baltra Island. At the port you will board a public bus that takes you to the airport. On the route from the hotel to the canal, you will have the opportunity to make a brief stop at the craters "Los Gemelos", crater holes formed by the collapse of materials, surrounded by scalesia's forests. (Transfer operates daily at 07h00, 09h00 and 12h00). Includes only transport.(Breakfast).
---
Choose your preferred dates and book your trip today
BOOK NOW
Included:
Transfer Airport - Hotel – Quito Airport
3 nights' accommodation in Quito
The Original Quito City Tour in Trolley + Authentic Middle of the World Tour
Otavalo Indigenous Market, Cotacachi & Cuicocha Tour
Excursion by the "Avenida de los Volcanes" with a brief stop at the Cotopaxi national Park.
1 night of accommodation in Riobamba (First Class****)
Excursion by train Alausí – Sibambe, passing through the Devil's Nose. Continue to Cuenca by bus, in route visit to Ingapirca Ruins.
2 nights accommodation Cuenca
Daily Breakfast
City tour of Cuenca
Transfer Cuenca / Guayaquil
01 night accomodation in Guayaquil
Transfer Hotel - Airport in Guayaquil
Transfer Baltra / hotel in Puerto Ayora, visiting the highland part of Santa Cruz Island (Includes lava Tunnels and a turtle reserve) + Visit to the Scientific Charles Darwin Station. (Transfer operates daily at 1pm). **It will be possible to operate transfers without visits and without guide at the following times: 10am and 3pm**.
3 nights of accommodation in Galápagos (Santa Cruz Island) with breakfast
Excursion to Tortuga Beach & Bay Tour
Full day Excursion in yacht to one the following islands Bartolomé & Bahía Sullivan, Seymour & Bachas, Plazas & Punta Carrión, Santa Fe or similar ones (Lunch included)
Transfer hotel / airport with a stop at Los Gemelos craters. (Transfer operates daily at 07h00, 09h00 and 12h00). Includes only transport.
Hotel taxes
Not included:
In Quito and Guayaquil, Municipal tax of US$ 2,00 per room per night is not included
International flights
Travel insurance
Any other expenses not previously specified
National Park fees to Galapagos 100$
Surcharge for transfer airport / hotel in Galapagos, for flights arriving before 10h00am and after 12h30pm: US$ 78,00 USD per person
Passengers flying to Galapagos in Tame airlines, must pay US $. 5.00 per way, in cash, for the public bus service from the airport to the Itabaca Canal, prior to boarding the ferry that transports them to Santa Cruz Island where they will board our private transportation.
Hotels:
First Superior: HILTON COLON HOTEL / ANDALUZA / CRUZ DEL VADO / SHERATON HOTEL / PALO SANTO
Luxury: SWISSOTEL HOTEL / ANDALUZA / MANSION / WYNDHAM / ROYAL PALM HOTEL